Top 10 Best Portable Radios – 2017 Reviews
Radio has been around since the early parts of the 20th century and many things have changed over the years as technology changes we adapt to those changes. This is especially true when it comes to the devices that we use to receive the radio signals that bombard us with their radio signals.
While cell phone's and the Internet have revolutionized the way we get much of our music, sports and news these days, the AM/FM and broadcast radio is still alive and kicking.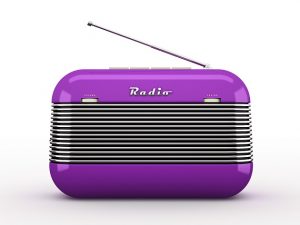 With dozens of local radio stations located in every town and city all across the country, it is usually not too difficult to find a good radio station wherever you live. However, having the right device to receive the radio signal and play it for you is a whole different story entirely. We put together a shortlist of the best portable radios and wrote a brief review of each of them.
We have listed some of the best portable radios available on the market today depending on what you are looking for, you will likely find something on our list with work for you.
---
Best Portable Radios Reviews In 2017
Panasonic RF-2400 AM / FM Radio – (Silver)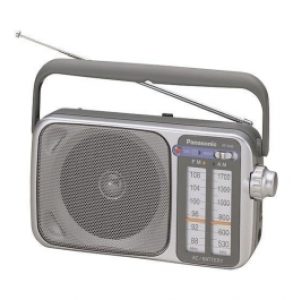 Panasonic is one of the best known international (Japanese) electronics manufacturers and while technology has changed dramatically you can still get your hands on a basic AM/FM radio that is capable of receiving your favorite local radio stations. It does have any of today's bells and whistles, but it will still bring your favorite music, news and sports right to where you need it.
The RF-2400 is smallish size device (3.2 x 9.2 x 4.8 inches) and very light, weighing a mere 16 ounces. It features a large, four-inch full range speaker for delivering the sound and it is tucked safely behind a wire mesh grill for its protection. It features separate scales for AM and FM frequencies and large dial on the side for selecting your station. There is slide switch for selecting between AM and FM and a LED light for fine tuning. There is a long telescoping style antenna mounted on top that is multidirectional which can be repositioned in order to better receive your favorite station.
The Panasonic RF-2400 Radio is a great little portable radio that is light enough to carry around and still sound great.
---
back to menu ↑
Sangean PR-D18BK AM/FM/Clock  – Portable Digital Radio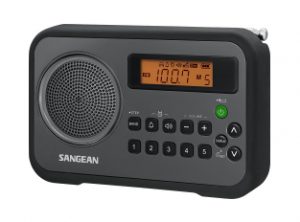 The Sangean PR-D18BK is a very versatile device that combines an AM/FM Radio and a digital alarm clock in one extremely portable package. The LCD display shows the time in the alarm clock mode and the radio station in the radio mode. It features a multi-directional, telescoping antenna that helps to bring in all of the working AM/FM radio stations. The protective bumper helps to absorb the shock in the event you accidentally knock it off the desk when it goes to wake you up.
The lightweight, portable AM/FM/Digital Clock Radio puts everything you need in the palm of your hand with this compact (6.54″T x 4.26″L) unit that can go any way you want it to. The alarm clock function includes a fully programmable multi mode alarm and sleep timer. The alarm can be either buzzer or by your favorite radio station. The radio function includes both AM/FM stations and has 10 programmable stations presets. The sound comes through it's built in 1.5″ full range speaker that delivers decent sound quality. Runs on 2 "AA" batteries that provide hours of operation on a single charge.
If you are looking for a best Radio + travel alarm clock this will do the trick, it delivers decent sound and it will wake you up.
---
back to menu ↑
Sony ICF-S10MK2 Pocket AM/FM Radio –  (Silver)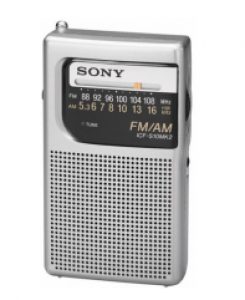 Sony has been making portable electronic devices for decades and this compact, pocket sized AM/FM radio is another great example of what they make. While much of today's technology is centered on digital media and streaming, the ICF-S10MK2 is a simply an AM/FM radio. It is capable of receiving any radio signal in your immediate area, whether it is AM or FM.
This tiny, pocket sized radio (2.8 x 1.1 x 4.6 inches) can be easily slipped into any pocket and be completely concealed. The small internal speaker provides a decent quality sound (a bit on the tinny side) but it also has a 3.5mm audio jack for plugging in earbuds or headphones. The tuner is able to pick up all available AM/FM radio stations in your immediate area and the red LED indicates when the station is fully in tune. The stations are changed by turning the wheel on the side slowly until you hit the correct frequency. The built in antenna is telescoping and it helps to bring in more of the available radio stations.
This ICF-S10MK2 pocket radio is perfect to be used when you are wanting to listen to your favorite radio programs or music. It is well worth the price tag and is a tremendous value.
---
back to menu ↑
DEWALT DCR018 18V/12V/20V MAX – Best Worksite Radio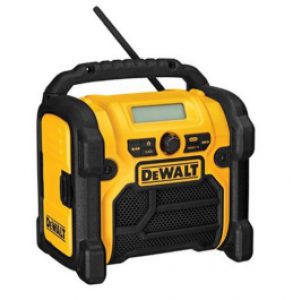 Dewalt is one of top manufacturer of tools and job site products and it is not surprising that they came up with this rugged radio. It features the recognizable yellow and black color scheme associated with all power tools from Dewalt. It runs on either AC or battery power utilizing a 12V, 18V and 20V Lithium-ion battery packs. The rugged case features a large carry handle and concealed storage compartment.
The DCR018 Worksite Radio is designed especially for bringing your music with you to any job site. This radio features a heavy-duty plastic case that will be able to withstand minor accidental falls. The AM/FM radio tuner picks up all available radio signals and that includes 5 stations presets. The operator panel includes brightly backlit LCD screen that displays the time and radio current radio station. It has a telescoping antenna to help bring in all of the local available radio stations. The storage compartment was designed to hold small electronic devices like cell phones. There is a 3.5mm jack which allows for the hook up of MP3 players, portable CD players.
The Dewalt Worksite Radio is the perfect radio for those times when you want to bring your favorite tunes or radio programs with you to the construction site.
---
back to menu ↑
Sangean DT-400W AM/FM Digital Weather Alert – (Pocket Radio)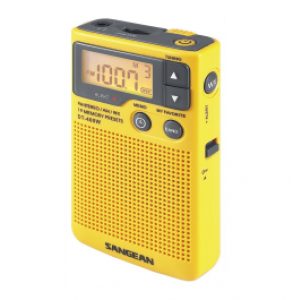 You never know when bad weather is going to pop up when you are away from home and it is always a good idea to have a portable radio with you. The Sangean DT-400W was designed with powerful NOAA enabled weather alert system. The National Oceanic and Atmospheric Agency is the federal agency responsible for tracking of all storms throughout the US.
This compact, pocket sized radio is extremely versatile as a weather alert system, alarm clock, and AM/FM radio. The weather radio features 7 NOAA channels and it gives an audible alert and visually with a red LED when a bad weather alert is issued by NOAA. It also features a digital AM/FM tuner with up to 19 programmable presets for your favorite radio stations. The sound is generated using the built in 1.5-inch full range speaker with Deep Bass Boost. It comes with a detachable belt clip so that it can be worn on your belt or tucked into a pocket.
The Sangean DT-400 Digital Radio is the perfect choice as portable AM/FM with an extra bonus of emergency alerts during bad weather and even Amber Alerts.
---
back to menu ↑
Sony ICF38 Portable AM/FM Radio – Black Color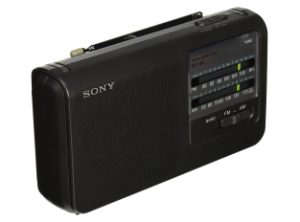 The Sony ICF38 is another fine example of the company's electronic design prowess when it comes to portable radios. This AM/FM radio features a great sounding dual speaker sound system and full digital tuner that is capable of receiving all local radio stations.
This portable radio receives both AM and FM radio stations with utilizing a dual antenna system to boost the reception of both the AM/FM signals. The sound is generated via the dual 2.5-inch full range speakers and you can select between stereo or mono sound. The tuner knob for selecting the radio station is located on the side and there are 10 programmable presets (5 AM and 5 FM). It can be powered by the included AC adapter or battery powered using 6x "C" batteries (not included). The digital clock and radio stations are displayed on the backlit screen located on the front of the radio. ,
The Sony ICF38 Portable AM/FM Radio is the good choice for a portable radio and it delivers great stereo sound.
---
back to menu ↑
Sangean PR-D15 Portable Radio – FM-Stereo/AM Rechargeable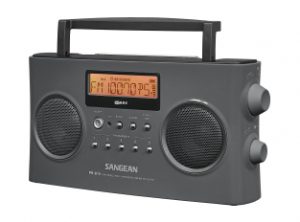 Sangean makes a number models of their portable AM/FM radio's and the PR-D15 builds on the popularity of the PR-D5. The addition of the flip down carrying handle makes it even more convenient to take it with you wherever you go. The dual speaker sound system delivers really good sound and it even has an easy to read digital clock. It can easily be used as travel alarm clock and also features a snooze timer that can be set to multiple time settings.
The PR-D15 is made of sturdy, but lightweight plastic and it easy to pack in a suitcase or carry with you using the flip down handle. It is compact (2.4 x 10.4 x 5.3 inches) and yet packed with features including dual 2.5-inch full range speakers that deliver a nice quality sound for its size. It is powered by either AC adapter which is included or it can be powered by using optional batteries. It takes 6 "C" size batteries which can either be standard alkaline or NiMH rechargeable type. It has a powerful digital AM/FM tuner that is capable of pulling in all available radio stations and even has 10 presets that can be programmed for your favorite AM and FM stations. The digital display is large and bright enough to be seen at all times.
You cannot go wrong by choosing the Sangean PR-D15 portable radio, it can be easily carried anywhere you want to bring your music or other radio programs.
---
back to menu ↑
Sony Super Compact Radio Walkman with Ear-Bud  – Model SRF-S84 FM/AM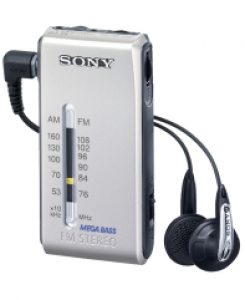 The Walkman has been Sony's signature line of portable music players for decades and they have a number of different types available. The SRF-S84 is the one of the most basic of all the portable radios that Sony makes. It is extremely portable due to its super small size. It is able to fit in most any pocket or it can be completely concealed in the palm of the hand.
The super small, compact radio is so tiny, but it delivers an amazing amount of sound for such a small package. It is made of ultra lightweight high impact plastic so that it is capable of withstanding being dropped and still continue to play your favorite music. The old-school analog tuner is still able to pull in all of the local available radio stations and it has a dial tuning wheel and bar indicator of the radio frequency on the front. It comes with a set of Sony's MDR Fontopia Earbuds that fit neatly into your ears.
The Sony SRF-S84 Walkman Radio continues in the footsteps of all of the past Walkman style music players that Sony has been making for decades.
---
back to menu ↑
Kaito KA500RED 5-Way Powered Emergency AM/FM/SW Weather Alert Radio – (Red)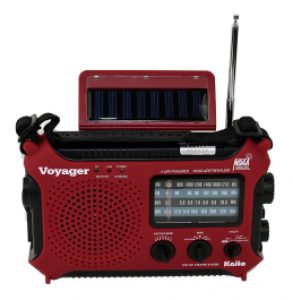 The Kaito KA500RED is the ultimate emergency radio in that it can be powered in five different ways. It is constructed of high strength and yet lightweight materials so that it can easily be carried during the times of need. It can be used to provide emergency lighting and also recharge several mobile devices at the same time.
This radio is made with a high impact plastic shell which helps it to remain lightweight and still be able to hold up to bumps and drops. It features an adjustable carrying strap so that it can be transported easily. It has good size full range speaker that delivers a decent quality sound. The digital tuner is capable of pulling in all of the local AM/FM and 7 weather bands so that you will be able to enjoy your favorite music and still stay alerted to any bad weather in your area. The real key to this portable radio is that it can be powered in 5 different ways; battery (6 "C" cell standard and rechargeable), hand crank, which charges the rechargeable batteries, solar panel, charges the batteries, AC power adapter and plug it into a USB port, where available.
The Kaito KA500RED Portable Emergency radio is the perfect choice for those people who enjoy being outdoors.
---
back to menu ↑
Sangean PR-D5BK AM/FM Portable Radio – Black Color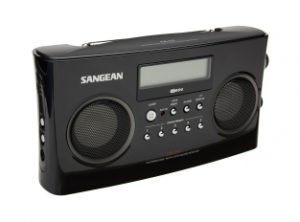 Sangean makes several different portable radios and each is designed to deliver great sounding music. The tuner is powerful enough to pull in all of the available local radio stations on both the AM and FM side. It features a dual antenna setup that helps to maximize the music enjoyment. The dual speakers help to deliver high-quality stereo sound.
The PR-D5BK AM/FM radio is compact and lightweight which makes it easy to take with you everywhere you go. It can be powered by batteries or using the included AC power adapter to deliver all of the power it needs. The sound is generated by the 2x 2.5-inch full range stereo speakers and it really sounds great for its size. The digital tuner uses the backlit LCD display and a dual antenna system (standard telescoping and a 200mm Ferrite AM antenna bar) helps to maximize the radio station reception. It also has a built in clock with programmable sleep timer and can be either buzzer or music alarm.
The Sangean PR-D4BK AM/FM portable radio would make a great choice for anyone looking for a way to bring their music with them wherever they go.
---