No matter what part of the country you may live in, you will likely have to deal with a hot car during the summer months, and the further South you live, the more intense the heat. Heat can build up with incredible speed due to the heat of the sun penetrating through the windows of a car. As time passes the sun can cause damage to dashboards, seats, and other interior materials. The primary advantage of having a windshield sun shade is the fact that it can keep the car interior significantly safer and in better condition. Aside from this obvious reason, it may also help to keep items stored in your car cool. When you enter your car it won't be quite as uncomfortably hot as it otherwise would have been without the use of auto sun shades. You can get shades which will even protect the rear compartments. Some types of shades may be left on the windows while driving to keep pets or children safer and cooler. Here is a list of some of the best windshield sun shades.
Car Windshield Sunshade Protector Shield By Coveted Shade  (
59″ x 31.5″)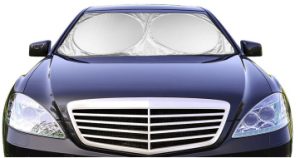 This windshield sunshade will eliminate hot interiors, dashboards, and steering wheels so that your car is much more comfortable. It will also protect the interior from the UV rays that can damage your car. It works by reflecting the rays away from the car with its reflective metallic surface. It can keep your interior in good condition and be lasting for years. The sun shield is quite easy to store and use because it simply folds away and pops up. This protective shield is durable and lightweight and can be put in a bag and stored almost anywhere. It is made of  nylon materials. It is a 1-piece sun shield and it is made for regular size windshields so it works well in the majority of cars.
---
back to menu ↑
Solar Eclipse WindShield Sunshade For Car , UV Protection for Auto Interior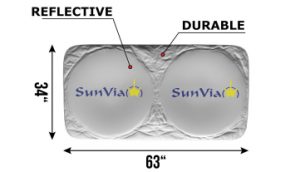 Enjoy set up that is ultra fast and easy with this Sun Via car window shade. You can unfold in it a mere second and then secure it and the visors in under half a minute, and just like that you have a cooler car. It offers 25% cooler auto shade, which is excellent. This type of protection is what keeps your interior and car accessories safe from damage. It prevents steering wheel burn, reduces ambient temperature, and it can even make it easier on your A/C. Not only is it attractive, it is compact and lightweight. The Sun Via Car Windshield Shade is made of durable fabric and can be used over and over. It can even be used as a privacy shade so you can nap or have lunch without people passing outside watching you. It is capable of fitting most makes and models and it is better than a window tint.
---
back to menu ↑
Plasticolor 003700R01 Star Wars Accordion Sunshade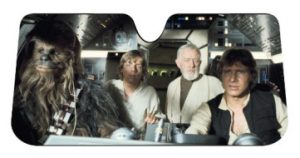 If you are into Star Wars there is no doubt that this is probably the best car sun shade for you. It gives you a chance to express and make a statement about your interests—you may even be able to connect with others who also love the Star Wars series. It folds up accordion-style which makes it easy to store it whenever you aren't using it. The elastic strap will keep it folded securely whenever it's in storage. This licensed product has the dimensions of 0.25″W x 57″D x 28H".
---
back to menu ↑
Shade-It Windshield Sun Shade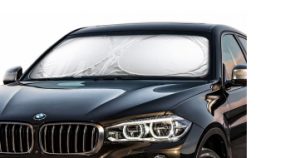 Who doesn't want to keep the interior of their car looking pristine? This sun shade can do just that, and it can also ensure that your car is cooler. When UV rays are left to penetrate a car they will lead to fading, cracking, and other damage, but this shade will prevent this from happening. It is lightweight, small, and more convenient than an accordion-style sun shade. The shade is silver coded and this reflects the UV rays, providing a radiant barrier system. It can protect your vehicle from 99% of UV damage, which is pretty incredible. It does this by reflecting 95% of the sun. It will be easily accessible, portable, and convenient. This Shade-It windshield Sun Shade can be folded to 1/10 of its size for greater storage ability. It is durable, strong, and made of high-quality material.
---
back to menu ↑
EzyShade Car Windshield Sunshade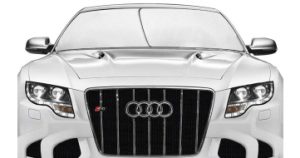 There are two rectangular shade pieces that fit together in one storage pouch. This innovative design is made to be lightweight and slim. After unfolded, each shade extends 28 x 31 inches. This makes the sunshade adequate for a windshield that reaches as high as 35 inches and as long as 62 inches. If needed the visors in your car can support the shades to keep them in place. Generally windshields are smaller than the dimensions listed, so all you have to do is overlap them and this will give you even better coverage. The fact that there are two shades makes them much more adaptable so that they can fit with a variety of sized windshields. They can also be installed horizontally if the windshield is smaller or vertically if the windshield is bigger. It is easy to fold them up and stow them away in the pouch then put them anywhere in your car. They are made with durable, high quality, tear-resistant material that is reflective, as well as ductile wire.
---
back to menu ↑
Car Sun Shade By Bearded Garage
Having this car sun shade will keep pets and children safe when they are getting into the car, as well as yourself because the car won't be blazing hot. You won't have to worry about scalding your hands on the steering wheel or seatbelt. It is capable of keeping your car as much as 44 degrees F cooler, which is quite a significance. It blocks 99% of UV rays to protect your interior from cracking, fading, or becoming damaged. You also won't have to spend as much money on AC when your car is already cooler than it would have been thanks to this car sun shade. Pops open so that it can fit virtually all windshields. The sun shade is made of a material that is premium, reflective, and durable. It can fold up to 1/10 its size which makes it easy to store.
---
back to menu ↑
iTavah Premium Sun Shade For Uv Protection (
59×27.55 inches)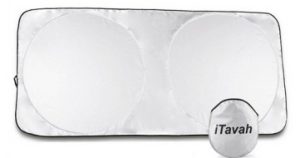 This sun shade is composed of the best material that is both reflective and durable. It also features pop-up inserted circles. It can cut out sunlight, thus blocking UV rays and reducing heat so that your vehicle is cooler and protected. You won't have to worry about UV damage or that overwhelming heat that makes for hot steering wheels and seats. The sun shade is contained in a foldable design and it is lightweight. When you aren't using it just fold it down and then store it in the pouch which comes with it. It will prolong the interior life of your upholstery and other areas of your car. The shade comes in the form of two circle inserts that are easy to fold up, pop open, and store. They measure 25.55" in diameter, all-in-all this is a good sunshade for the car.
---
back to menu ↑
OxGord Car Sunshade 
Foldable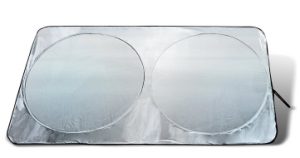 This great sunshade was made by OxGord and has been called the best car sun shade. It was newly designed, meaning that it is comparatively up-to-date and current. When it is open it is 35 inches high and 63 inches long. It weighs a mere 5.6 ounces and does not fold. In general, it seems that people like this sunshade and it should provide protection against heat. That means you won't have to deal with so much warmth on a hot day when you first get in your car, and you won't ever have to worry about UV rays leading to interior damage in your vehicle.
---
back to menu ↑
Coveted Shade Windshield Sunshade Jumbo 
for Car Truck SUV Minivan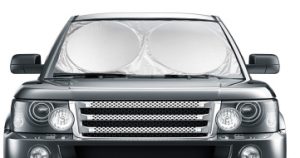 You won't ever have to get into your car again and feel like you are in an oven. Your family and pets can be comfortable without the concern of scorching dashboards, steering wheels, and seats. The sunshade will reflect the sun away from your car, thus keeping the temperature lower on the inside. UV rays cause damage to a car's interior by fading and cracking material such as upholstery. With this jumbo car windshield sunshade, this won't be an issue. When you want to use it the sunshade will pop up and when you want to pack it away just fold it up and store it. It is durable and lightweight and made out of quality nylon materials. It is made to be big for more coverage and measures 63 inches in length and 35 inches in width. It has support rings which measure 29.5". It has a larger width and ring size than the majority of ordinary sun shades out there, so it is best for big windshields. It can still fit into a medium windshield, however, because it is quite flexible.
---
back to menu ↑
ABN Windshield Jumbo Car Sun Shade (
30 x 63)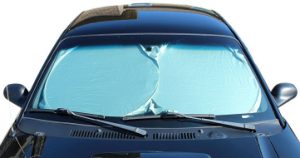 If you want a sunshade for a car this is another great choice. This lightweight and high-quality sunshade is composed of nylon polyester. It is a jumbo car sun shade that can reach 30 inches by 63 inches and it is capable of fitting the majority of modern cars. It is fast and easy to install and uninstall. The ABN jumbo windshield sun shade can keep UV rays from damaging your dashboard, car seats, steering wheel, and more. It is included with a 9 ½ " x 11" case to make storing it even faster and easier. If you have a larger car this is the best windshield sun shade.
---
Having auto sun shades can be useful no matter where you live, as most locations experience hot weather as long as you don't live somewhere on the glob that is very far north or south. Some places will experience heat worse than others, especially if you live more near the equator where the sun penetrates most all year around. Having a sun shade can not only extend the life of your car's interior to make it last longer and keep it from cracking and fading, it can also give you greater comfort when you enter your car on a hot day.