Top 6 Best Recliners for Big and Tall Men – 2017 Reviews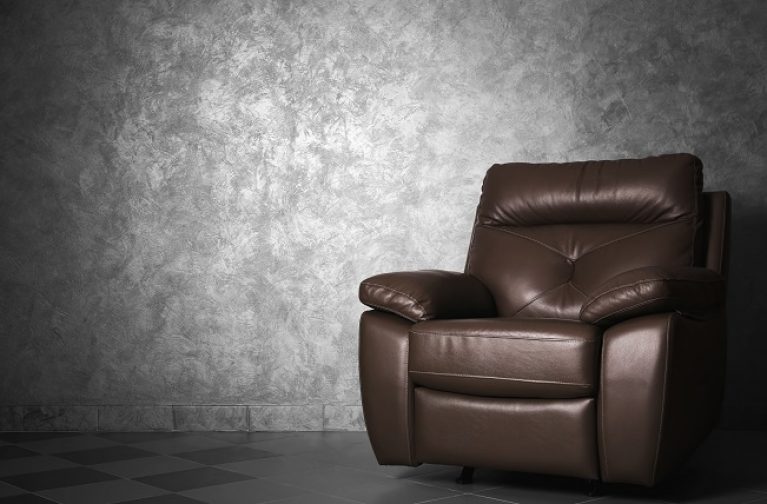 Some guys have all the luck. Others are big and tall, and whether you're obese or just weigh more due to height, there are some pieces of furniture that just can't give you the support you need. Every man should have a recliner to relax in, and that goes for big and tall men.
If you're looking for the best recliners for big men or tall men, we've got the best models for 2017 right here. We've zeroed in on things like ease of use, weight limits, as well as other handy features to make finding your best recliner for big or tall easier than ever.
---
Top 6 Best Rated Recliners for Big and Tall Men
Stallion Comfort Wallsaver Recliner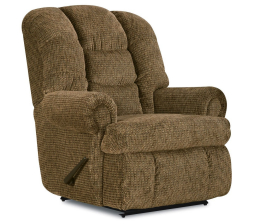 This Stallion Comfort King Chaise Recliner is specially designed for big men. It offers the maximum comfort as a chair that provides a full-body recline. The cushions for the seat and back are attached which will prevent slippage in time. Reinforced high-tension coils make this chair durable. It's designed to hold over 350 lbs and can even support up to 500 lbs.
In full-recline, this recliner for oversized men reaches the length of a king-size mattress, making it easy for even the tallest men. The back of the recliner is 48" tall, making it one of the tallest recliners in production for 2017. Hardwood frames are constructed with mortise and tenon, enabling it to support big men. It is proudly made in the USA.
---
It's stylish, comfortable, and heavily padded. It's strong, well-built, made in America, and isn't prone to wearing out quickly. That makes this recliner for tall men a fantastic choice. There may be some difficulties with reaching the lever to extend the chair but for those that find that problematic, they can add an extender.
---
back to menu ↑
Flash Furniture MEN-DA3439-91-BRN-GG Rocker Recliner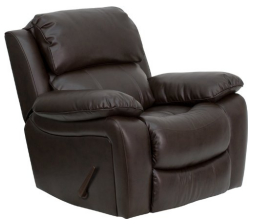 Flash Furniture's plush rocker recliner is covered with LeatherSoft upholstery, giving it an attractive appearance that is easy to wipe clean. This recliner is overstuffed with padding to provide comfortable reclining. In addition to a recliner, it is also a rocker, however, it does not rock when fully reclined. It provides a 39" seat back to accommodate tall men.
Designed for intense relaxation, this recliner is ideal not just for men that want to unwind, but it's also for women that desire a comfortable rocker in the baby's nursery. Even without a baby in the house, the rocking motion provides a soothing place to sit.
---
It does have a high seat back, making it a good option for tall men, this recliner may not be suitable for big men. The manufacturer makes no mention of how much weight this chair can endure. Therefore, if you are more big than tall, this chair might not be the best option for you.
---
back to menu ↑
Lane Stallion Comfort King Recliner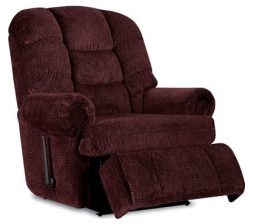 Lane Stallion's Comfort King Recliner is made with big and tall men in mind. This recliner for big and tall men features an extra tall seat back ideal for men up to 6 ft. 8 in. It can also contain people that weigh up to 500 lbs.
When it is fully reclined, it is as long as a king-size mattress. Designed with complete comfort for the big people, this recliner features easy reclining and comfortable, durable padding. It also has a thoughtful WallSaver® design, allowing the chair to move forward when shifted into recline so you enjoy more floor space surrounding the recliner.
---
Tall men described the chair as being long enough to keep their feet from dangling off the end. It ships in two pieces and easy to assemble. Because it hits such high notes with customers and offers the features big and tall men desire in a recliner, this is an excellent choice.
---
back to menu ↑
Flash Furniture AM-9930-8550-GG Big and Tall Recliner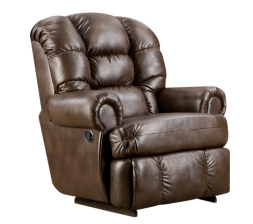 Flash Furniture created this comfortable recliner for oversized men. With a capacity to hold 350 lbs., it was made for big and tall body types. It reclines for ultimate relaxation with comfortable plush upholstery and a plush pillow back. The lever allows you to recline in multiple positions to find your ideal level of comfort. It also provides good neck and lumbar support.
---
While it might be fashioned for big and tall men, it does not seem to hold much weight. Other models are capable of holding up to 500 lbs. and this one can hold up to 350 lbs. If you are heavier than 350 lbs., this would be a poor choice for a recliner.
---
back to menu ↑
Serta Big & Tall Memory Foam Massage Recliner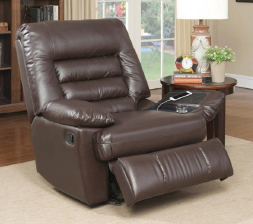 Serta's Memory Foam Massage Recliner has all the bells and whistles for a big and tall recliner. It offers three positions where you can sit, sit with the foot rest extended, and the full-recline position. It also comes with the ability to massage, which features multiple settings and includes a timer.
It's large and very comfortable and can hold a weight limit of 350 lbs. It also includes places to hold remote controls as well as a USB port for charging your devices. Additionally, there is a cup holder, making reaching your beverage a breeze.
---
It has lots of extras, however it can only hold 350 lbs. Big men may not feel as comfortable in this chair as they would like to.
---
back to menu ↑
Catnapper Teddy Bear Oversized Chaise Swivel Recliner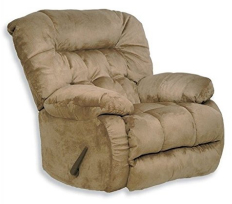 This reclining glider was created to provide the ultimate in comfort. The seating area is ample and roomy, with plush and pillow-soft padding throughout. It touts an Omega Reclining Mechanism which comes with a limited lifetime warranty that aims to be the smoothest and quietest reclining operation. The seat box is made from 100% steel and claims not to warp or split so that it can hold big and tall men.
With reinforced steel springs that resist bending and wear, this recliner for big and tall men is built to last. It is bolted together within to keep it from falling apart.
---
This an another best recliner for big men. However, there is no mention of seat back height or how much weight this recliner can endure.
---
Final thoughts
When choosing a recliner for big and tall men in 2017, there are plenty of options. While it's nice to find a recliner that has cup holders and other amenities, if the rest of the recliner falls short in regards to durability, the height of the seat back and the amount of weight it can hold, it's not a good choice. It will only mean you'll have to replace your recliner again and again over the years.
For this reason, we think that the Lane Stallion Comfort King Recliner is the best recliner for big and tall men. It's sturdy, comfortable, long enough for even the tallest men, and has a large capacity for weight up to 500 lbs. The WallSaver® feature is another plus that makes it the perfect recliner for big and tall men.
---