Top 10 Most Comfortable Bras Reviews
Ask most women if they would prefer not to have to wear a bra all and I am sure the overwhelming majority of them would much rather not wear one. This is mostly because most of the fashion bras are extremely uncomfortable to wear for long periods of time. This is probably because the materials or special construction of the bras tend to exert pressure or put undue strain on certain areas.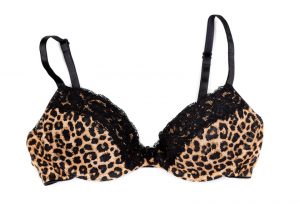 This often leads women in search of a much more comfortable bra to replace the ones that they don't like. Unfortunately, the typical comfort bra is considered much less flattering or not pretty enough. That idea is about to change, today's comfortable bras are not the only comfort, but they are now much more appealing.
For those women looking for the best comfortable bra, look no further than anyone of the bras listed below.
Top 10 Most Comfortable Bras In 2017
Bali Women's Comfort Revolution Convertible Wirefree Bra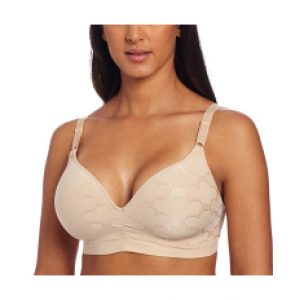 Bali is one the most recognized names in bras and other undergarments in the world. They use only the finest materials and most innovative technologies in each and every one of their bras. The Comfort Revolution line of bras offer unequaled support, comfort and looks. The straps feature a unique shape and are fully adjustable for extra support and comfort. You can get it in a wide range of colors in order to fit with your wardrobe.
The fabric is made from a combination of nylon, spandex, and polyester to provide the all-over support and comfort in all the right places. The stretch cups help to provide total coverage to prevent overhang and discomfort. The sidebands give just enough to move with you and help to smooth your silhouette and features hook and eye fasteners. The adjustable back straps can be worn standard or criss-cross depending on your wardrobe needs.
The Bali designers definitely had comfort in mind when they were creating the Comfort Revolution line of bras. Every aspect of the bra screams comfort, from the fabric that provides support but gives in all the right places to allow you to move comfortably.
---
back to menu ↑
Warner's Women's This is Not a Bra Full-Coverage Underwire Bra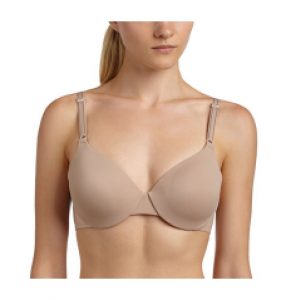 Warner's got a real winner with it's "This is Not a Bra" line of women's bras and it has actually received a number of high marks from fashion magazines for its amount of comfort it provides. It features the highest quality materials and fabrics combined with great innovations and designs to deliver what every woman is looking for in their bra. It comes in a wide variety of colors to choose from.
It has full coverage cups to prevent overhang and a unique satin covered underwire system to prevent it from digging into your skin. The soft to the touch nylon and Elastane material used in the fabric provides the right amount of support, while still remaining extremely comfortable. The hook and eye closure keeps it securely in place and also easy to remove as well. The shoulder straps are thin and fully adjustable for extra support and comfort.
This Warner bra is a definite winner for those women who do like the underwire style bra but don't want the discomfort often associated with it. The wide variety of colors also makes it a great choice for any women.
---
back to menu ↑
Just My Size Women's Active Lifestyle Wirefree Bra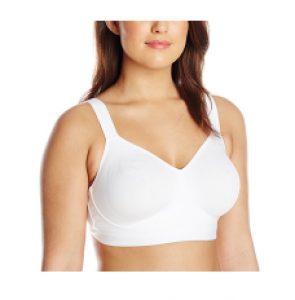 This Active Lifestyle Bra is one of most comfortable of the support bras on the market. It is made from only the finest materials and it has several features that are designed for maximum comfort to the women wearing it. It is designed to provide maximum support even for those with a very active lifestyle. It is seamless so you won't see any unsightly bulges or wrinkles through your clothes you are wearing.
The comfortable bra is made with a combination of cotton, polyester, and spandex to provide the most overall support and comfort to the areas that need it. It delivers a shapelier look thanks to its two-layer cup design and smooth fabric. The bra also has an inner lining that helps to wick away any moisture from the touching the skin to make you more comfortable. It comes in both black and beige color depending on your wardrobe needs.
The Just My Size Active Lifestyle Bra from Hanes is the best bra for the women who has an active life and needs that extra level of support. It was also made with a women's comfort in mind.
---
back to menu ↑
Victoria's Secret Pink Wear Everywhere Push-Up Bra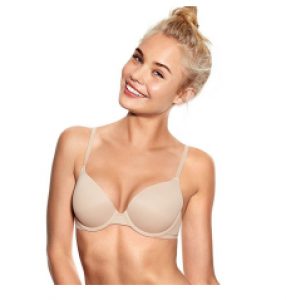 Victoria's Secret makes more than just women's lingerie, they also make bras that are made to be worn everywhere. There Pink Wear Push-up Bra is a just one example of the high-quality bras. It is made using only the highest quality materials and it is designed to provide support and a little lift in all the right places. It comes in dozens of fashionable styles and colors that will surely fit in with your wardrobe.
The combination of nylon and spandex gives it the soft to the touch feel and the firm underwire helps to provide the gentle uplift and support you need. The straps are fully adjustable and can be worn in a standard or cross configuration. The cups feature extra soft padding for additional comfort and support.
The Everywhere Push-up bra is another shining example of the many products from Victoria's Secret. The bra provides the right amount of lift to help accentuate your look and give them more of you to see.
---
back to menu ↑
Carole Martin Women's Full-Freedom Comfort Bra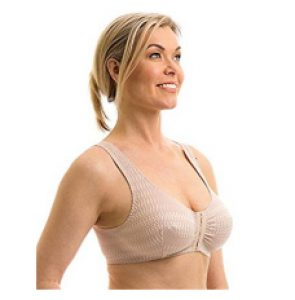 The Full-Freedom Bra from Carole Martin is the perfect bra for those women looking for plenty of support, while still delivering comfort enough to be worn for long periods of time. It is made with only high-quality materials and designed in a way that offers all over support without hindering the wearer's movement. It doesn't have any wires or pads in cup area to cause any undue discomfort.
The nylon and spandex combination in the fabric gives it an extremely soft to the touch feel, but still, provide all of the needed support and it gives at the right time to allow freedom of movement. The shoulder straps are very wide and that helps to eliminate back strain and it features a front hook and eye fastener which is a hallmark of the of the Carole Martin bra. It comes in three different colors to choose from; black, beige and white.
Carole Martin has been designing and manufacturing bras for women for more than 40 years and the Full-Freedom is one of their most popular of all the supportive bras. It gives plenty of comfortable support for those women with B-C-D cups.
back to menu ↑
Under Armour Women's Seamless Essential Bra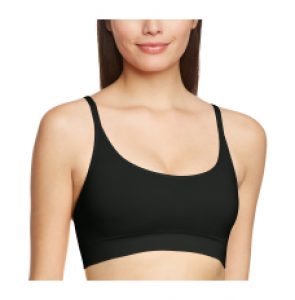 The Women's Essentials Bra from Under Armour is a well supportive slip-on bra that doesn't have any fasteners to hook on in order to put it on. It is made of only high-quality materials and comes in several different fashion colors. The shoulder straps are adjustable and are attached in the back. It is comfortable enough to be worn all day and even during low impact activities.
The fabric used to make the bra is ultra lightweight, soft to the touch and moves with you as not to cause binding or any discomfort. It has a unique moisture wicking system built in that helps to draw the moisture away from the skin, this helps to keep the wearer cooler and dryer. There are also unique ribs built into the fabric to provide extra stability and support.
Under Armour is one of the top manufacturers of athletic wear for both men and women, so it is not surprising that they would develop a bra that can be worn both for everyday use and also for moderate activity.
---
back to menu ↑
Maidenform Women's Love The Lift Push-Up Bra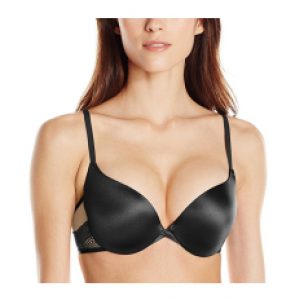 Maidenform is one of the most recognizable of all of the women's undergarment manufacturers and they have many different lines of bras. This lift and push-up bra is one of their specialty products that are designed for one specific purpose. It made from only the highest quality materials and has several features that make it a great choice. There are dozens of styles and colors available for this bra.
Maidenform combines nylon and spandex all around to create a fabulous looking bra that lifts and pushes up in all the right places. The unique criss-cross design in front creates a plunging effect that accentuates the cleavage. The back straps are convertible so that you can wear it with a wider range of tops and dresses. It features lacy side panels for a more fashionable look and has a hook and eye closure in the back.
The Maidenform lift and push-up bra provide plenty of support in the bust and side areas. The deep plunging front and push-up help to really bring attention to your cleavage. The color and style options with this bra are quite substantial.
---
back to menu ↑
OTIOTI Women Seamless Bras 4 Pack Wirefree Padded Everyday Sleep Bra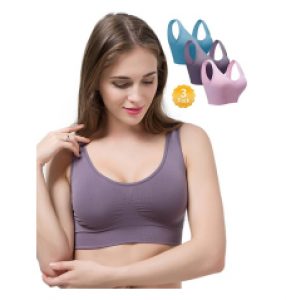 The Women's Seamless Bra for OTIOTI is a unique everything bra that can be used as a sports bra, everyday bra and even can be slept in comfortably. It provides all of the support your body needs while it moves with you, which makes it perfect for the active woman. The bra provides full support and uplift in the bustline without the bothersome underwire. It comes in three fashion colors so that it can be worn with your entire wardrobe.
The key to this bra is that it is seamless, and it features moves with you fabric that makes up the whole garment. There are no annoying fasteners to get in the way and you can simply slip in and out of it easily. The material is made from soft to the touch nylon with spandex built in to provide all of the necessary support in all the right places. The cups feature removable pads and the bustline has extra support at the bust line so there is no need for the wire.
OTIOTI created this bra which is very versatile and can even be used as a sports style bra. The fabric is breathable and lightweight, yet it is fully supportive in all the right places. The fashionable colors mean that you can wear one of the with most of your wardrobe. The cups are padded and it has all the support in the bust line without the need for the uncomfortable underwire.
back to menu ↑
Hanes Women's Ultimate T-Shirt Soft Foam Wirefree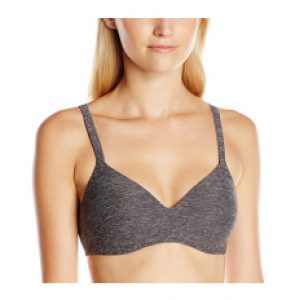 This support bra from Hanes has a t-shirt soft feel while providing the necessary support needed by women. The unique fabric design and some hidden secrets help to provide support in all the right places and it doesn't have the dreaded underwire that often causes the most discomfort for the wearer. It also comes in several different fashionable colors that will make it the perfect bra to goes with all of your clothes in your wardrobe.
The secret to the comfort of the Ultimate T-shirt Soft Support Bra is the unique combination of materials that provides the support in all the right places; sides, back, bustline and shoulders. By combining nylon, polyester and spandex give it the t-shirt soft feel and the inner lining helps to wick away moisture to provide comfort to the skin. There is no uncomfortable underwire to dig in and a hidden feature in the cup area to help prevent the undesirable show-through situation.
Hanes came up with a best bra that offers the four-way support that women are looking for, but it still has the fashionable look that most of the old-fashioned support bras lacked for years. The material combination gives it the ultra soft feel that many women are looking for in a bra.
---
back to menu ↑
Playtex Women's 18-Hour Seamless Smoothing Bra #4049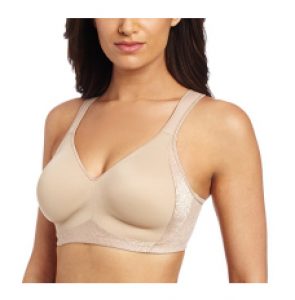 Playtex is one of the most recognizable brands of women's bras in the world. Playtex's 18-hour line of bras is the company's most popular of all its full support bras. They are made with only the best quality materials combined with their exclusive fusion technology that produces a smooth, seamless all over look while maintaining all the needed support.
The key to the Smoothing Bra is its use of spandex and nylon to eliminate bunches and bulges while providing all the necessary support. The two layer padded cups and padded shoulder straps provide both extra support and comfort in all the right places. The secret to the 18-hour support bra is its four-way support system; higher sides for full side support, straps are wider so there is no digging in, cups are more round to prevent overhang, and a smoother back gives added stability. The back closure features four secure hooks to keep it securely fastened.
Playtex has long been an industry leader when it comes to the best support bra and it should be no surprises that would go one step further to add extra comfort to their 18-hour line of support bras.
---