Motorcycle speakers are fairly different from other types of speakers, like those for your truck or car, so it's in a category all its own. There are a variety of different models when it comes to motorcycle speakers. The more common type, however, are handlebar speakers and even in this more narrowed down category is plenty of room for variety for things like wattage. If you are looking for the best motorcycle speakers then there are a few things you can take into account before making that final choice.
First and foremost you should probably determine the specific type of speakers which you would like to have. Motorcycle Bluetooth speakers are one popular choice that a lot of people like, but you may also choose handlebar speakers or even helmet speakers. Which one you choose primarily depends on nothing but what type of speaker you would personally prefer. Aside from that, you may want to think about matters such as wattage, additional features, input source, and if it is waterproof or water resistant. Ultimately you can see the buyer's guide for a more in-depth explanation about the various things to look for when trying to pick out your perfect motorcycle speakers.
These reviews will be a good place to help you start narrowing your search down and possibly even make your final decision. This is certainly an exciting endeavor, because whatever speaker you choose will give your riding experience a lot more dimension and fun. Riding a motorcycle in and of itself is edgy, cool, and exciting, but without music, the picture seems incomplete. This is why you need to find the right motorcycle speakers that can make riding your motorcycle more meaningful every time you embark on a journey, big or small.
Our Top Picks For Best Motorcycle Speakers
Sound Storm Laboratories SMC95BC Motorcycle/UTV Speaker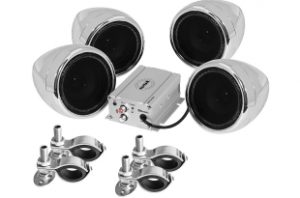 This Motorcycle speaker system will work great for a variety of vehicles, including ATVs, scooters, 12V motorcycles, and touring bikes. It gives you the chance to turn up your playlists whether you are on a trail or on the road. It has 3-inch full range speakers as well as 1000 Watt Max Power Amp so that you can always enjoy your favorite songs the way they were meant to be heard. The auxiliary input lets you hook up your MP3 player or your smartphone so you can stream music from your device. With Bluetooth Audio Streaming you will be able to play music apps which is another great way to listen to music. They feature wired remote control and they are even weatherproof so you don't have to worry as much about the elements. It comes included with mounting brackets which can fit handlebars that are 0.75" to 1.25".
---
back to menu ↑
BOSS AUDIO MC420B Motorcycle/ATV Sound System – 600 Watt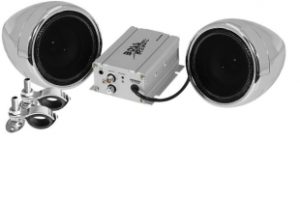 See At Amazon
Hook this speaker up to your motorcycle, scooter, ATV, or touring bike so you can take your music out onto the dirt trail or just on the road. It has two 3-inch full range speakers and you can use the auxiliary input to hook up your MP3 Player or your smartphone. Thanks to the Bluetooth Audio streaming you can play Pandora, Spotify, and other music apps. The Wired Remote Volume Control lets you control the sound. This type of volume control is safe and convenient to use while you are driving. The speakers are also weatherproof, so even when you are outside in the elements they will be able to withstand. If you end up traveling through rain, fog, or splashed water, your speakers will still be protected. The 600-watt max amplifier lets you listen to your music with decent volume. There are a lot of reasons to like this sound system—you can hook it up to your devices via the auxiliary input or Bluetooth, it has a wired remote volume control, it's weatherproof, and made out of chrome.
---
back to menu ↑
BOSS AUDIO MRWT40 Marine Waketower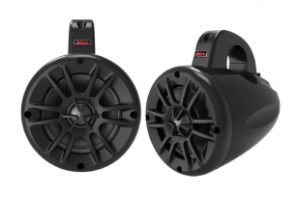 This speaker is water resistant, it has best UV protection, and it is even fully marinized. Despite all of this, however, it is important to note it isn't technically waterproof. All major components are specially sealed and coated to prevent corrosion which happens in environments which are salty or humid. Ultra-violet coating has been placed on the outside shell to protect it from the sun and its damaging effects. The cone is composed of polyurethane which is made to be sticky, bouncy, protective, squishy, yet hard. It is perfect for providing flexibility yet protection and it will give speakers a long lifespan. The surround is composed of butyl rubber which adds to making the sound system weather proof, protecting it from exposure to various kinds of weather fronts. The midrange and tweeter are both made of mylar which generally has a higher rate of durability than ordinary paper cones. It gives way to a larger spectrum of variety when it comes to channel handling and sound modifications. Finally, the voice coil is made out of aluminum which is excellent at resisting corrosion. It is a solid material that doesn't ignite easily and can perform very well under stress.
---
back to menu ↑
Marine Grade Motorcycle Handlebar Speakers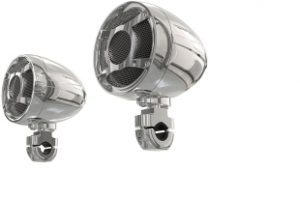 These chrome motorcycle handlebar speakers are 3 inches in size and marine grade. They include best handlebar brackets which work with 7/8-2 ½ inch bars. The speakers are each 300 watts and they include rich texture chrome. They work with essentially any motorcycle amplifier. Working voltage is 10-16V DC VoiceCoil Impedance. It has a 4 Resonc frequency, Fo-12kHZ, and an effective frequency range of 165HZ. The putout sound pressure level is 88dB with <=5% distortion. These great high-quality motorcycle speakers are marine grad. They are 100% waterproof and they come with handlebar brackets. You can even use them under water in a swimming pool and they would be able to function.
---
back to menu ↑
PYLE PLMCA20 Mount Amplifier With Waterproof Speakers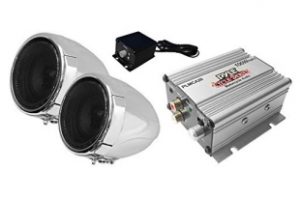 You can mount this speaker system to your snowmobile, ATV, boat, scooter, wave runner, or motorcycle—essentially any recreational vehicle. It is weatherproof and comes with a pair of 3" speakers that are each 50-watt, in addition to a 100-watt amplifier. With the 3.5 mm jack, you can easily plug in your iPod, phone, or MP3 player. The stylish system makes it easy for you to control every aspect of your music experience with digital controls which encompass bass, treble, and of course volume. Accessories including easy mounting brackets are all included so installation is painless and quick. In order to use the speakers all you have to do is mount the amp and speakers to your vehicle then use the RCA jacks to connect an input source. You can also use the 3.5mm jack to hook up your digital music player. The wired remote can be used to control volume. This remote control lets you manage your volume as you are on the trail or road. The bullet design is unique and stylish, plus the speakers are finished in chrome. It can be connected to a CD or MP3 player and it also works with Androids, iPods, and iPhones.
---
back to menu ↑
Shark Motorcycle Audio 250W 2 Speakers + External Antenna Bluetooth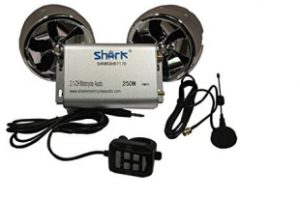 This best-rated system includes 2 waterproof speakers, 2 remote controls with full features, all necessary accessories, and a 250-watt motorcycle amplifier. The amp includes FM radio and the remotes control aspects such as on/off, volume, and FM stations. One remote is wired, whereas the other remote is wireless. There is a display that contains information for song data as well as FM stations. It includes facts about the album, singer, and even the specific length of a song. The amp/radio contains a USB and SD slot which eliminates the need for using an MP3 player. All you have to do is download a song onto the SD card then plug it into the amp. It is possible to connect a CD player, MP3, or any iPod to the system as well. It has an external antenna Bluetooth and SD AUX LCD display. There are mirror brackets, beautiful chrome speakers, and Bluetooth which is built in. The system is 250 watt and includes an external antenna.
---
back to menu ↑
Pyle PLMCA90 Motorcycle/ATV Amplifier Weatherproof Speakers – MP3/iPod Input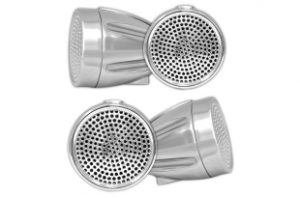 Enjoy high-quality audio when you are on your motorcycle, snowmobile, or ATV. This great weatherproof speaker comes with four bullet-style speakers that are each 3" and 50-watts. The speakers collectively can produce a 300-watt peak power which a frequency response of 250-20k Hz at 4Ohm Independence. Aside from this, it includes a 1200-watt amplifier which will deliver enough volume to allow for complete immersion. It includes a 3.5 jack so you can easily plug in your iPod, CD, or MP3 player and enjoy the music you have. The satellite USB plug will even let you charge devices like the MP3 player. The volume control lets you take full control over your music. Installation is quick and easy due to easy handlebar mounting brackets and other accessories. The water-resistant construction will keep the system safe even in rain or snow. The universal handlebar rotary volume control can be mounted somewhere convenient so you can manage the volume safely.
---
back to menu ↑
BOSS AUDIO MC470B Motorcycle/ATV Sound System – 1000 Watt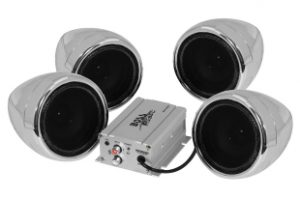 This sound system can be used on a range of different vehicles, aside from a 12V motorcycle it can be used with an ATV, scooter, or touring bike. The auxiliary input lets you play music from your smartphone, iPod, or MP3 player. Through Bluetooth Audio Streaming you can enjoy music apps such as Spotify and Pandora. The wired volume control gives you full access to the volume level and the speakers are weatherproof so you don't have to worry about rain, snow, or fog. Even if your system gets splashed with water it will be alright. The power amplifier can produce 1000 watts. They can fit  0.75″ to 1.25″ Handle Bars.
---
back to menu ↑
Innoglow Motorcycle Amplifier Stereo Speaker System – FM – MP3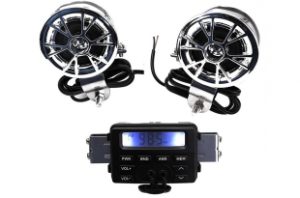 This motorcycle speaker system features FM and 2 speakers. The audio radio handlebar is black and chrome and the package includes the user manual, a 3.5mm AUX jack, 2 chrome speakers, and the radio head unit. The aux jack lets you plug in your MP3, iPhone, iPod, or another similar device to listen to your downloaded songs. It has a function clock and LED display so you can see all your music information. The full-band FM lets you enjoy your favorite radio stations. It has high fidelity stereo and an automatic memory after power off. Not only is this speaker system waterproof, it is even shockproof. Maximum output power is 4Wx2 and rated output power is 2Wx2. The frequency range is 87.5MHz-108MHz and the working voltage is DC 12V.
---
back to menu ↑
Shark Shkmsm2050k Motorcycle Speakers With Wireless RC Remote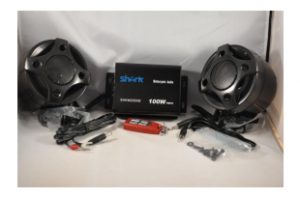 This motorcycle or yacht speaker system includes an amplifier, radio, wireless rec remote, and USB/SD. It is compatible with any motorcycle as it connects by means of the battery. Aside from motorcycles, it will also function for ATVs, scooters, golf carts, and all water sports vehicles. The system includes a 100-watt amplifier which also contains a built-in FM tuner. The antenna is built in. There are also 2 speakers which are fully waterproof and a full-featured remote that is wireless. Brackets and wires are already installed on the system. The additional features are a USB input into the FM amplifier, an SD slot, and the wireless remote. The mirror brackets come along with it for easy installation and it has an LCD screen which is easy on the eyes.
---
Motorcycle Speakers Buyer's Guide
Waterproof
Most motorcycle speakers are water-resistant to some degree or another, but this is absolutely vital to look into. Obviously, any speakers that you use on your motorcycle will inevitably be exposed to weather conditions as there is no roof to protect yourself or the accessories and gear you carry on the motorcycle. To get speakers that can't adequately hold up to such conditions would produce a very unfavorable outcome. You want to get some speakers which can withstand humidity, especially if you live somewhere humid—obviously. You also want them to be able to withstand fog, rain, snow, and even splashing—as you have probably experienced what it's like when a car drives past you and sprays water on yourself and your motorcycle. Water-resistant speakers can endure light rain whereas waterproof speakers can handle just about anything.
---
Connectivity
A speaker is not very useful unless it has Bluetooth and/or other connectivity options like USB, SD, or an auxiliary input, which will let you play music. Before you get your heart set on a speaker check out what options it has for playing music and connecting to your devices. Keep in mind the type of devices you ordinarily use, and how you like to stream music to other speakers. Bluetooth capability is great for streaming music apps such as Pandora, auxiliary inputs let you hook up your phone, CD player, or MP3 player, and SD cards let you download your music.
---
Wattage
This is another important issue to think about. Basically, the higher wattage a speaker has, the more volume it will produce. You may not actually need more volume if you only use your motorcycle when riding around town. If you travel over highways then more wattage may be necessary so that you can actually hear the music you love.
---
Mounting Options
Some motorcycle handlebar speakers are easier to mount than others. It's also important that they will fit the size of your handlebars, so check out the specifications on that. If you choose to not to get handlebar speakers then there are other motorcycle speaker choices open to you, such as motorcycle helmet speakers. This is just another area to think about so that you don't buy a speaker and find out that it is really difficult to mount, or, worse yet, won't fit your handlebars.
---
Warranty
Regardless of what you are buying, be it motorcycle speakers or a new computer or just about anything else, it is always smart to compare warranties and to pay attention to this detail before checking out. Warranties may vary depending on the company or seller. If you are buying from a third party seller then a warranty may not necessarily apply—this is an important question to address. Generally with items like motorcycle speakers you can get a fairly decent warranty, which is important. Look at what different warranties cover and how long they will last, as certainly not all warranties are created equal. If something breaks and you need to get the speakers fixed or replaced, a warranty can be a huge help.
---
Conclusion
Picking out the best motorcycle speakers is an important endeavor that requires some degree of consideration and care. Of course, it is also exciting, but in order to get the best speakers you have to understand just what to look for and do a little comparing. This motorcycle speakers review will help you to find the speaker that works just perfectly for your motorcycle, the kind of conditions you drive in, and your personal tastes.
Riding a motorcycle is fun and exciting no matter who you are. Being able to feel the wind in your hair as you cut around tight corners and go wherever you please in style is an amazing experience. Music just adds what nothing else can, and without music riding a motorcycle is fun but not quite the same. Furthermore, having the right speakers can make all the difference compared to having the wrong kind that doesn't have the right options or enough volume.