Having a flashlight around when you need one can be truly invaluable. Of course, you probably won't find yourself in too many situations in which you require a flashlight, but it is much better to have one and not need it than to need it and not have it. These tools can make a dark situation much easier and less stressful if you ever find yourself without light.
Pocket flashlights are very popular due to their compact size. Since you won't probably need it all the time, it makes sense to get something that doesn't take up too much space. Pocket flashlights are perfect because they deliver the light you need without being cumbersome or infringing on the room. It's just good sense to have one with you on your person wherever you are. Whether you are at home, in the car, traveling, or of course camping, it makes sense to have a flashlight. The lights could go out in your home or you may have to change a tire in the dark—you never know when you may really need a flashlight. These pocket flashlight reviews can help you choose.
Our Top Picks For The Best Pocket Flashlight
Anker LC40 LED Flashlight – Pocket Sized Torch With 400 Lumens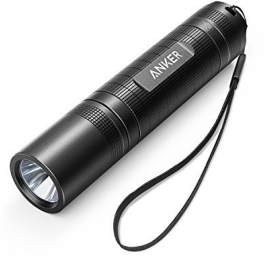 This pocket flashlight has a body which is not only made out of durable and hardy aluminum, it is sleek and elegant in an appearance as well. This means that it is stylish as well as sturdy and durable. No matter where you bring it with you, you can count on performance that is outstanding and everything you need it to be. The Anker LC40 LED Flashlight has a weatherproof rating of IP65 and it can resist not only dust, but rain as well, in case you find yourself in the outdoors at night as may very well be the case. With 400 Lumens of light, you can accomplish whatever home tasks you need to get done. This flashlight is ideal for indoor or outdoor situations. The Anker LC40 can provide hands-free illuminations because it is designed so that it can stand upright. This means it can function rather like a candle. It can even be attached to a bike so that it can illuminate the path ahead, thanks to its lightweight design and small size. This is very important to note if you need to use a flashlight on your bike, and it is great for lighting the trail ahead. The Anker LC40 can fit into your jeans or breast pockets easily. Use a rechargeable 18650 battery for 6 hours of use or 3 AAA batteries for 4 hours, either way, it has a fairly estimable battery life.
---
back to menu ↑
American Tactical Supply Co. Tactical Pocket Flashlight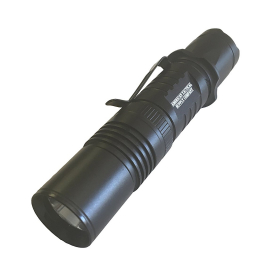 No matter what your tactical needs are, this flashlight it suited to take care of all of them. The American Tactical Supply Co. Tactical Flashlight is compact and weather-resistant as well as strong. You can put it on your nightstand, safe, bag, or vehicle. It is ideally suited for any and every application that could require a flashlight. It can be accessed and carried very easily and conveniently which is another great benefit. If you find yourself in a critical or urgent situation it is vital to be able to access your flashlight fast. It has a pocket clip that is discreet and helps you to deploy the flashlight quickly when the situation calls for it, and in certain situations, this may be very important. The tail cap button makes sure that the light isn't on unless you intentionally push the button, thus saving battery. It has the same on/off function which is utilized by military and law enforcement.  The lifespan of the 10W LED bulb can last as long as 100,000 hours and it can shine the length of 500 meters. The output brightness is 800 Lumens and it features a design that is very water resistant. It is durable and sturdy due to the aluminum alloy. The American Tactical Supply Co. Tactical Flashlight can be used on a daily basis. The bottom line is this flashlight is made to last and has been constructed in a way which gives it a long lifespan overall. There are many reasons this flashlight has been called the best pocket flashlight.
---
back to menu ↑
Streamlight 88033 High-Performance Flashlight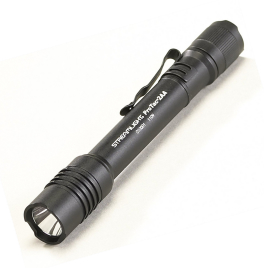 This pocket LED torch is versatile, powerful, and compact. There are three unique programs and it also utilizes LED technology. For its small size, the Streamlight High-Performance Flashlight happens to be one of the brightest pocket flashlights. It has strobe modes as well as momentary or variable intensity as well. The push-button rubber tactical tail is multi-function and makes all of this easy to manage and control. The three unique programs are low/strobe/high, as well as low/high and high only. This gives you more options to suit your particular needs at any given time. The Streamlight High-Performance Flashlight can be used for sporting goods, emergency medical services, security, and law enforcement, in addition to personal use. Positive identification is possible because it is serialized. Applicable European Community directives are met, and it utilizes LED technology that is powerful and bright. With a 50,000 hour lifetime, you will never have to worry about replacing the bulbs. It can withstand 1 meter of water for 30 minutes. The Streamlight High-Performance Flashlight also has an anti-roll head and unbreakable pocket clip. These features give it greater convenience.
---
back to menu ↑
J5 Tactical Flashlight – Ultra Bright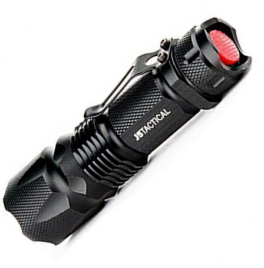 This is the only flashlight you really need, as it is the best-selling flashlight that fits in the J5 Tactical range. One single AA battery can give it hours of life with its incredibly bright LED light. When it comes to J5 Tactical flashlights it has the best value that you can get. Although it is small, it is super-charged with a maximum of 300 Lumens. In general, this is fairly bright and should provide enough illumination for your situation. On a clear night, the beam can stretch out across two football fields which is fairly amazing. The J5 Tactical also has an adjustable focus range which allows you to focus it wider or more intensely depending on your need at the given time. There are three modes including strobe, low, and high. It has incredible strength based on only one AA battery, and that battery can last for more than an hour to provide continuous light. The J5 Tactical is tough as nails with its compact design. Whenever or wherever you end up sing this particular flashlight know that it is sure to impress. The J5 Tactical has been tested in the field and has had a lot of good feedback from users.
---
back to menu ↑
Streamlight MicroStream LED Pen Light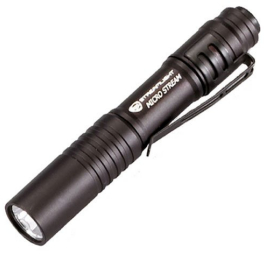 This great flashlight has a push button tail cap switch for greater convenience as well as constant or momentary operation. There is a clip that can be used for your pocket or hat for greater convenience. In general, it provides a great overall value. The Streamlight MicroStream Pen Light is resistant to abrasion and very durable, yet it is still quite lightweight thanks to Type II Military Spec anodizing. It uses the most recent C4 LED technology. It is optimized when it comes to run and output time. There are additional benefits, including the fact that it is applicable to meet European Community Directives. The Streamlight MicroStream Pen Light has a beam that can extend 52 meters and consists of 52 Lumens. The C4 LED technology is not only shockproof it is also capable of producing extreme brightness. The Streamlight MicroStream Pen Light has a candela peak beam intensity of 683. It has a  Type II MIL-Spec anodized finish as well as machined aluminum alloy which is corrosion resistant. This flashlight is built to last so you can count on it to give you plenty of use.
---
back to menu ↑
Anker LC90 LED Pocket Flashlight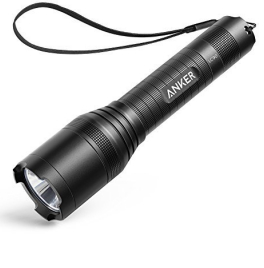 The Anker LC90 LED Pocket Flashlight is bright and even zoomable. It has incredibly positive feedback from those who have used the flashlight. It is even equipped with industry-leading technology which is impressive. The features are comprehensive, including a versatile combination of a full selection of light modes, as well as a super-bright light suited with a convenient zoom-in option. All of this is fit in a body that is compact and durable. There are five unique light modes which make this flashlight so useful in any situation that is low-light. The Anker LC90 has an energy-saving low-beam, a high-beam, strobe, medium-beam, and also emergency SOS. The controls are made to be intuitive with a single button that can be used for all of the cycles and modes as well as the on/off switch. The zoom function is just an easy adjustment slider. Components are all high-grade on the Anker LC90 which is another important bonus. The LED XM-L2 chip is capable of delivering brightness that lasts 50,000 hours, and the brightness reaches 900 Lumens. Overall this is pretty astounding and makes for an incredibly bright flashlight. The battery technology used in the J5 Tactical also prevents both undercharging and overcharging, which can help to preserve the lifespan of a battery. As you can see there are quite a few advantages this flashlight carries with it.
---
back to menu ↑
UltraFire Mini Cree Led Flashlight – Pocket Torch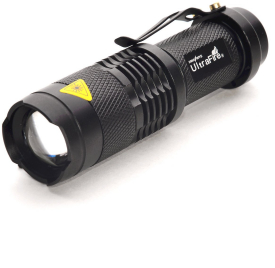 Are you looking for a cheap pocket flashlight? The UltraFire Mini Cree is a great choice because it is highly inexpensive yet it is still a quality product. Made with the CREE QD-LED chip, this flashlight boasts 100,000 hours of life as well as up to 300 Lumens. The UltraFire Mini Cree is constructed out of aluminum alloy material in addition to the coating that is anti-abrasive. It has anti-reflective coating and a convex lens which is is ultra clear and toughened. This flashlight is not made cheaply. It is water resistant and safe. The highest water resistant level reaches IPX-6 and it can still function even in heavy rain, but shouldn't be submerged. The working voltage is wide, which essentially means that it can use the batteries to the largest extent possible. This flashlight is even zoomable and it has three modes, which are: fast strobe, low, and high. This is perfect for whatever situation you need. The UltraFire Mini Cree Led Flashlight has a tail cap switch as well for greater accessibility and convenience. The flashlight is small, lightweight, and compact. The UltraFire Mini Cree Led Flashlight has a design that is skid-proof aside from being waterproof, and despite its size, it has a blinding effect which may be useful in a somewhat dangerous situation. It allows you to adjust the focus range for whatever usage you need it for.
---
back to menu ↑
Outlite 501B High Power LED Flashlight – OutDoor – Camping And More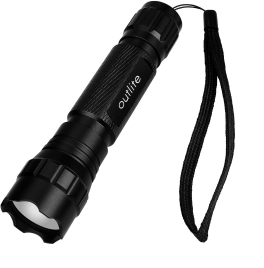 This pocket LED torch has an intense circle floodlight which is ultra bright and can cover an area of up to 600 feet. This is perfect to give you a feeling of security if you need it. The Outlite 501B High Power LED Flashlight has a tac light, as well as a great, high-efficiency output, LED chip. The advanced design is both water resistant and skid-proof. When it comes to other handheld flashlights it offers impressive performance. There are five various light modes, in addition to 3 brightness levels. The Outlite 501B High Power LED Flashlight has a disruptor strobe, SOS function, and a tactical security design. The flashlight uses an 18650 Lithium-ion battery. It has a fixed beam which is great for different usages. The Outlite 501B High Power LED Flashlight has on outstanding output brightness and internal wiring which is designed in such a way that the batteries are utilized to the fullest extent. It is made out of aluminum alloy and it is durable and sturdy for daily use. The lamp has a lifespan of as many as 100,000 hours or more.
---
back to menu ↑
GLAREE E03 Keychain Flashlight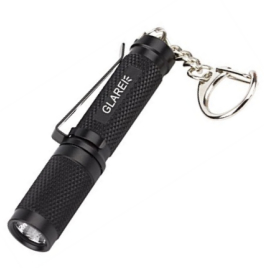 This small flashlight utilizes one single AAA battery and has been called the best pocket flashlight. The material it is made of is AL T6061-T6. The weight is .02 pounds without the battery which is quite lightweight. The diameter of the GLAREE E03 Keychain Flashlight is 2.75 by 0.55 inches and the working voltage is 0.9V-3.0V. It has an anti-abrasive finish and it is made up of Type III hard anodized materials. The run time and output is 120 hours on Moonlight, on low it is 6.5 hours, on high is 30 minutes, and on strobe, it is 60 minutes. Although it is compact the GLAREE E03 Keychain Flashlight is still powerful and features 150 Lumens of brightness. It has a beam distance of 49 yards. It can be used on a daily basis, outside, as a gift, or in the case of an emergency. The GLAREE E03 Keychain Flashlight is easy to carry and has a key ring that allows it to be hung on a purse, backpack, hat, necklace, or other chain or loop. It has one-handed operation, all you have to do is twist or tighten the head. It's also waterproof.
---
back to menu ↑
Docooler Min LED Pocket Torch Light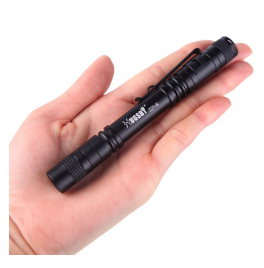 The Docooler LED Flashlight is another fairly cheap flashlight. Shaped like a pen and portable in size, this flashlight is only a mere 13.3cm in length. The Docooler LED Flashlight can be sat on a flat surface to serve much like a candle due to the specific way it is designed. The maximum output brightness can extend to up to 120 Lumen. It comes complete with a clip which makes it much easier to carry it places. The Docooler LED Flashlight has one simple switch mode which makes it fairly uncomplicated and easy to use. It is abrasion resistant and skid-proof as well as waterproof in design.
---
What is a Pocket Flashlight?
Technically a pocket flashlight may be called a small flashlight or a pocket LED torch. It is any ordinary flashlight which can fit into an average-sized pocket. What it is is fairly self-explanatory within the name. If you already know what a flashlight is, just think about a smaller version. Flashlights have, in the past, been much larger, heavier, and bulkier, especially in order for it to have adequate light. In recent years technology has made it possible to have a bright, piercing light from a small and compact package. These pocket flashlights weigh very little and are generally only a few inches in length yet they can produce powerful light.
Pocket flashlights have the obvious advantage of being small, which makes them easier to keep on hand and carry. They take up less space so they are easier to store. Aside from this, many pocket flashlights feature LED technology. LED flashlights are some of the best kind to get, as this type of light source can withstand the tests of time. Most of the pocket flashlights we list here are LED, so they are durable and long-lasting. They do not burn out and require replacement of the bulb like flashlights once did in recent times.
---
What Things To Consider For Choosing The Best Pocket Flashlight
When it comes to flashlights there are a few different factors to consider before settling on the one that would be right for you. This is generally true regardless of what you are purchasing, every product deserves some due consideration before you put money down. Everything you buy is an investment in some way. Of course, these different aspects may require compromise, as the price you pay generally correlates to the quality and other features you may get to enjoy. These are still important issues to keep in mind whenever you are looking to invest in something that could be as potentially important as a pocket flashlight which you may end up really needing.
---
1) Light Output
Simply put, the light output is how bright a flashlight or other light-producing device is or isn't. The basic way to find the light output of a pocket flashlight is to simply look for the number of Lumens; the more Lumens, the brighter like the outdoor projector. This is obviously one of the first and most important things to pay attention to because the very reason you get a flashlight is for the light output itself. The number of Lumens may not be very important unless you are certain that you will need the flashlight to produce a high degree of light. This may be the case if you are using the flashlight for camping or for security, or in the case of an emergency. You may want to look for the best flashlight which offers a high number of Lumens.
---
2) Battery and Light Life
Different flashlights will utilize the energy from a battery at different rates. While some flashlights can last for hours on a single charge or a single battery, others may last only an hour. Clearly, you want to find a flashlight that has a fairly enduring battery life. Aside from battery life, there is also the matter of the bulb. When it comes to LED lights this isn't really an issue at all, as LED flashlights generally last hundreds of thousands of hours before dying out. Usually, the typical lifespan will be mentioned in the product description, as with the battery life. If the product is not LED this is another important thing to look for because the bulb will likely not last long. The good news is that most of the flashlights in these times are already LED.
---
3) Water Resistance
If you plan to use the flashlight while outside, such as camping or in case your car breaks down on the side of the road, then water resistance is a particularly important factor. If you just want to use the flashlight in your home then this shouldn't be an issue. As it is, most flashlights have some degree of water resistance, but some can withstand better than others. Some waterproof flashlights can even be submerged in water up to an extent, but this is not necessarily true of all flashlights. Some could be destroyed if this is done, so it is important to know the degree of water resistance a flashlight has.
---
4) Size and Weight
If you want a pocket flashlight you want it to be small, compact, and lightweight. If it is called a "pocket flashlight" or "mini flashlight," it is probably already as small as you need it to be. Of course, it doesn't hurt to check out the dimensions and weight to be sure that it is still small enough for your needs. This is especially true if you need the flashlight to fit in a particularly cramped location or you plan to tote it along with you on a bike. Even though all pocket flashlights are comparatively small when considering regular flashlights, there is still some room for variability—not all of them will measure exactly the same. The dimensions and weight of a flashlight are usually easy to find in the product description. This is generally easy to compare, so you can look at one flashlight compared to another flashlight thus finding the one which is most compact and lightweight.
---
5) Price
Pocket flashlights can range considerably when it comes to price. This can be quite beneficial as it means that you can choose the flashlight that fits within your budget while also thinking about what you need or what matters to you in a pocket flashlight. This is primarily an indication of how well the flashlight is made and the features it has to offer, in addition to other factors like those mentioned previously—battery time, light output, and the degree of water resistance. There are a few other things which could have an impact on price, including the number of modes, zoom ability, and adjustability. Before you settle on a flashlight always check out the reviews, because price alone should not be the primary way you measure the quality of a product.
---
Conclusion
Flashlights can be endlessly useful in any situation where you find yourself in the dark. There are many circumstances in which this may happen. A power outage, camping, or vehicle troubles are just a few general situations in which having a flashlight can come in handy. Aside from this, they may provide security and safety in potentially dangerous situations. Some pocket flashlights are even powerful enough to add this important element of security.
Obviously, the advantage of having a pocket flashlight is primarily the small size. Ordinary flashlights are valuable but pocket flashlights are much nicer if you need to travel or pack lightly, or if you just want to have something simple around in case you require the light. Whatever the reason, pocket flashlights have those elements of being lightweight, compact, and small, which can be very convenient. The only question then is what pocket flashlight you should get. There are a lot of options to choose from and many have different advantages. Aside from this, prices also vary drastically. These pocket flashlight reviews are great for helping anyone find the best pocket flashlight.
---