Top 10 Best Pedestal Fans – 2017 Reviews
When you are trying to stay cool or just to keep the air circulating in a room, a fan is a great addition. Pedestal fans, also known as standing fans are great to put in the corner of the room to help not only cool but keep the air circulating.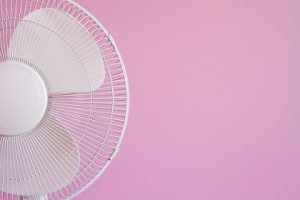 We all hate how a closed room with a few people in it can feel stuffy, we can help you find the best standing fan, or pedestal fan to fit your needs and to help you feel comfortable.
Most of these fans are used in addition to air conditioning to help keep the air circulating and to help keep you comfortable, but they can also be used to help keep you cool on a warm day if you have no air conditioning or just do not want to run it.
Best Pedestal Fans For The Money
Rowenta VU5551 Turbo Silence Oscillating 16-Inch Stand Fan With Remote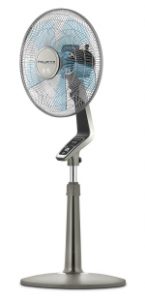 This 4-speed standing fan is sure to keep your room or office cool.  This 16-inch oscillating fan has 5 blades that were engineered to be powerful and quiet so it will not add any unnecessary background noise to the room, it is rated at library levels and you know how quiet libraries are.
This fan moves air up to 1695 cubic feet per minute, in other words, it keeps you cool and keeps the air circulating. This powerful fan really does keep the room cool, especially on high. The 4 speeds allow you to choose how much cooling you want and the fan is adjustable from 42 inches up to 54 inches in height so you should have no problem finding the best fit.
Not only does it keep you and your room cool, but it also has a handy remote so you do not have to get up to shut it off or turn it down, you can do that from the comfort of your chair.
---
back to menu ↑
Lasko 1843 18″ Remote Control Cyclone – Black Color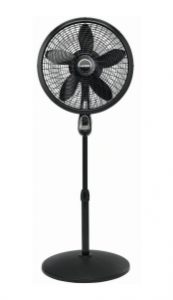 This fan by Lasko is an 18-inch oscillating fan is sure to keep your room or office cool. It's lightweight and easy to move from place to place and the 5 plastic blades give you a lot of cooling while being quiet. You can also tilt the fan to direct the air where you want it to go.
This fan also comes with a remote control so you do not have to get up to turn it on or off or to change the speed. This fan by Lasko has three speeds so you can control just how much air you are getting and did I mention it was quiet?  It can also be expanded to a height of 54 inches.
It also has a programmable timer, so you can set it to run for a certain amount of time instead of always on. You can program it to run for 1, 2 or 4 hours and then it will just shut off after the time has expired.
This really is a nice product even though it is made of plastic instead of metal, but it can stand up to a lot of use.
---
back to menu ↑
Comfort Zone CZST161BTE Pedestal Fan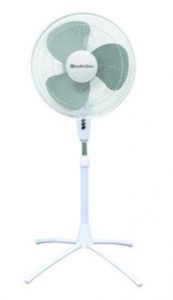 This fan by Comfort Zone is lightweight, so it's easily portable from one room to another. The quick folding base allows it to be put away in a closet when not in use. This fan has 3 speeds so you can control the amount of air and is tilt adjustable. You can also adjust the height of the fan from 41 inches up to about 48 inches, so you can set the perfect height for you.
This fan is fairly quiet, yes you will know it's in the room, but the noise that is produced from it will not interfere with anything you may be doing, so you will not have to worry about turning up the volume of the TV or anything like that.
There is nothing fancy about this fan, it is a simple fan, but it does the job it was intended to do.
---
back to menu ↑
Vornado 683 Medium Fan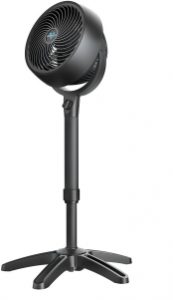 This pedestal fan by Vornado is perfect if you need to keep the air cool and circulating in a room. The deep-pitched blades move the air up to 75 feet and keep it circulating, allowing you to keep the room you are using it in cool and comfy.
There are 3 speeds for you to choose from so you can have the amount of air circulation that is right for you and the room you are in.  It is height adjustable from 32 inches up to 38 inches and has a tilt head so you can point it in the direction you want. You get all this with a 5-year warranty, so you know it will last.
This fan has fairly good reviews, the most negative being it is a little louder than they thought it would be, but it works great.
---
back to menu ↑
Lasko 1827 – 18-Inch Adjustable Pedestal Fan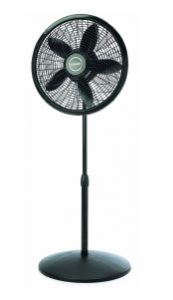 This 18-inch oscillating fan from Lasko is a simple, yet kind of elegant looking and does the job it's intended to do. This fan has a wide oscillation so it reaches more of the room and circulates the most air possible and it is tilt adjustable also.
There are no fancy things about this fan, it's a simple, yet powerful oscillating fan that can be left out if you wanted and it would not clash with your decor. The biggest complaint about this fan is the noise it produces, especially on the highest setting, it is noticeable, but it works as intended.
If you are looking for a quiet fan, you may want to look elsewhere, but if noise is not a huge issue, this one is a good deal.
---
back to menu ↑
Dyson Air Multiplier AM08 Pedestal Fan
This fan by Dyson has to be the most unique looking fan out there and it works great!
There are no blades, it uses Air Multiplier technology. I am not really sure how it moves the air using this technology but it does and it does a great job of not only circulating the air but keeping the room or area cool.
It comes with a remote control where you can choose from 10 airflow settings so you can get the airflow the exact way you want and it has a sleep timer with preset intervals from 15 minutes all the way up to 9 hours. Surprisingly this powerful fan is quieter than I expected, even on the highest setting and when it is on the low settings you will not even know it is there running. On top of all this, this fan is also energy efficient.
I would highly recommend this Dyson fan, I think it is one of the most powerful and one of the best pedestal fans out there.
---
back to menu ↑
Costway 18-Inch Pedestal Fan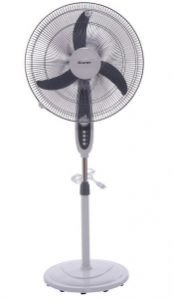 If you are on a budget and do not have a lot to spend on your pedestal fan, this one could be perfect for you. There are no fancy bells or whistles on this simple fan, but this 18-inch oscillating fan does a great job of circulating the air and keeping a room cool.
It has an adjustable tilt back to direct the air exactly where you want it or just let it circulate the air. The three-speed controls allow you to control how much air gets circulated and of course, at lower speeds you have a quieter fan. This fan runs fairly quiet even on the high setting and it also has a programmable timer where you can have it run for a certain amount of time and then have it shut off, the timer can be set anywhere from 40 minutes up to 120 minutes.
---
back to menu ↑
Designer Aire Indoor and Outdoor 18″ Standing Pedestal Fan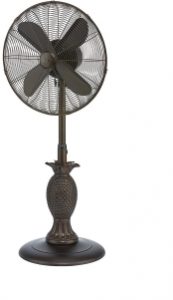 See At Amazon
This fan can be used inside or outside. The design is unique and will go with just about any decor with its vintage copper finish. This 18-inch oscillating fan will definitely keep you cool whether you are in a room or outside on the patio. You can choose from three speeds depending on the amount of air you want to move or how cool you need it.
It is also height adjustable so you can be sure you are pushing the air where you want it.
This fan is also quieter than you would think, I mean it is not the quietest fan out there, but I have seen many pedestal fans out there that are a lot noisier.
While this can be used indoors or outdoors, I think it is the perfect fan for your
patio
where you can keep yourself and your guests cool while sitting outside.
---
back to menu ↑
Best Choice Products Adjustable 16″ Oscillating Fan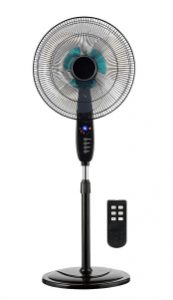 This is another best pedestal fan with an interesting blade design. It uses dual blades, large and small fan blades together to create, as they say, a "satisfying breeze". This three-speed fan will surely fit your needs. It has 10 inches of height adjustment to allow you to set it at the right height for you and it also has a front and back tilts to direct the air where you want it.
It has three fan modes: steady, wind and sleep. Steady will give you a constant air flow, the wind will give you the feeling of a soft wind gust and sleep will give you a light breeze feeling. Rather unique if you ask me. It also comes with a remote control, so you can control the fan from the couch instead of having to get up to turn it on or off or change a setting.
---
back to menu ↑
OEMTOOLS 24871 20 Inch Oscillating Pedestal Fan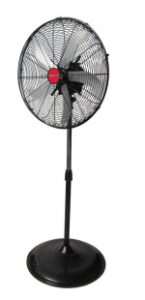 This fan is made more for the workshop or garage or any industrial workplace instead of the home. This 20-inch oscillating fan is sure to move the air in the workshop and keep it more comfortable for you. The all metal construction makes it sturdy for any industrial or garage type of place and the five aluminum blades really move the air.
It has a three-speed motor so you can choose how much air you want to circulate. As you can imagine because of the type of places this fan is made for, it's not that quiet, but what garage, warehouse or workshop needs to be that quiet anyway.
This fan is very powerful and will help immensely to keep the air circulating in a large space.
---