Are u Agree On This?
The more serious or interested you are in photography, the more likely you will be concerned about camera stability. This is a very important aspect in capturing high quality, professional-looking shots.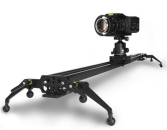 Aside from the benefit of getting a much better image, camera stability can also help to protect a camera from potential falls. Nothing is more devastating to a photographer than having their camera become destroyed or damaged. If you are leaving your camera in a stationary position, tripods are all you really need. If you are moving your camera then monopods and bipods may work, but they do not provide adequate stability. The best solution for those who are moving the camera as they film are rolling camera mounts or sliders. With this type of device, you will be able to take your camera from one location to the next smoothly without dropping the camera or getting messy footage.
Obviously, it's important to find the right slider but doing so may be somewhat difficult, especially if you aren't sure where to start. These camera slider reviews should make it easier for you to select the one which works best for your budget and specific photography needs. We have put together this list of some of the best camera sliders that you can find on the market for a range of different prices.
Our Top Picks For Best Camera Sliders 
IMORDEN 48″/120cm Middle Video Camera Slider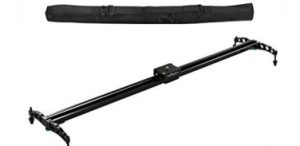 This camera slider comes complete with a carrying case. The IMORDEN Video Camera Slider is composed of aluminum and its maximum load is 15lbs; it is 48"/120cm in length. The optimal load is between 7 and 13lbs. The mounting screw included is 3/8" and ¼". The slider is smooth and there is significantly less chance of corrosion or rust because of the two Chrome Coated Shafts and the 4 roller bearings which are located on the top plate. It can be used with any digital camera, movie camera, or video camera as well as other equipment for photography. It is made with a structural design that is unique creating several different mounting options. The IMORDEN Video Camera Slider can be used on two tripods or one. The slider has legs that are eagle-claw design, and because of this, it is easy to make fine adjustments. Setup is easy and the slider is made to be precise, smooth, and quick. You can use it as a crane on a tripod, or sloped, vertical, or make straight horizontal shots.
---
back to menu ↑
Neewer
23.6″/60cm

Camera Track Dolly Slider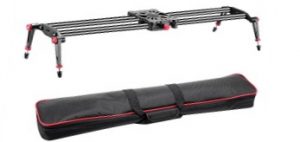 The Neewer Camera Track Dolly Slider comes in four different sizes and there are a lot of other qualities that make this a great slider. It has upgraded ball bearings which help to ensure minimum abrasion on the tubes made of high-grade carbon fiber as well as smooth motion. You can enjoy quietness and stability whenever you are making shots. There are many different threaded holes on different sides of the slider to ensure you can shoot from a range of different angles. Shoot vertically, horizontally, or even at 45-degree angles. You can also use the holes to mount accessories that will help improve the video or photo quality. The legs can be folded up which means setting up is faster, it is more portable, and in general easier. There are locking knobs and a gear-shaped joint interface to make locking easier. The height of the legs is adjustable.
---
back to menu ↑
Selens 
Dslr 

Camera Slider (

31″ 80cm

) – Huge Weight Support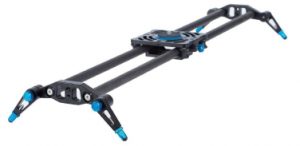 There are many reasons to love the Selens Dslr Camera Slider. The ¼ and 3/8 screw holes are located at the side and bottom of this slider, making it extensible. It has a lock button design which includes a double lock button and this can help to enhance stability. There are 8 strong carbon fiber tubes and the maximum load is 22lbs which is pretty significant. The Selens Camera Slider has a 6 bearings design with two outer pulleys as well as one inner pulley and they are fixed one each on the carbon fiber tubes. This prevents the tubes from outward expansion which may happen after they are used a long time. With multi-level adjustment, the feet can adapt to the adjustable system. This makes it easy to tweak the angle on uneven ground and apply to various occasions. It has been called the smoothest, most versatile, and the quietest slider that can be found, making it the best camera slider.
---
back to menu ↑
Filmcity SL-2 (Cheap DSLR Camera Slider)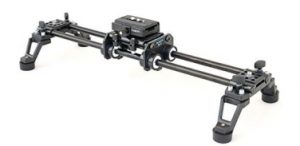 If you want a cheap camera slider this is a pretty prime choice. While being affordable the Filmcity SL-2 Camera Slider still gives you smooth filming. It has vibration-free stability as well as support which can keep cameras steady. It is easy to put on every surface and working condition. The camera mount platform is smooth gliding and equipped with Teflon bearings. It has glide rails that are self-lubricating which ensure shots are quiet and smooth. The slider solutions are optimum lightweight which is another benefit, and it has rubber feet which are rock solid and adjustable. This prevents scratching. One of the great things about the Filmcity SL-2 Camera Slider is that it has many of the benefits without the weight of a big dolly system.
---
back to menu ↑
StudioFX 40″ Pro Ball Bearing DSLR Camera Slider Dolly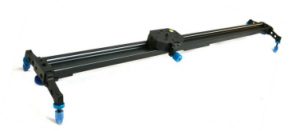 There are many reasons some people have called this the best camera slider. The maximum load for this dolly is 15lbs and it has a length of 40". The StudioFX 40″ Pro Ball Bearing Camera Slider Dolly features a ball bearing slide system that is extra smooth and it can be used with the majority of ¼" mounting. A carrying case is included with the slider dolly. It can be used with your digital camera, video camera, movie camera, or just about any other similar piece of equipment. When you slide the camera across the slider and capture photographs every picture will be at a unique angle. This slider is at a professional grade and gives you support and stability when filming.
---
back to menu ↑
TNP Track Dolly Slider (
47″/120cm

)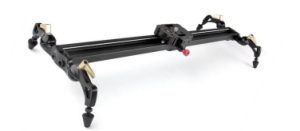 This dolly slider is quite portable and can be set up in a matter of minutes, and aside from this, it is also quite easy to use. The TNP Track Dolly Slider can be applied to any digital camera, video camera, or movie camera—essentially any photography equipment. While shooting you will be able to take advantage of support and shake-free stability. The two legs are removable and they are capable of raising the slider as much as two inches from the ground. The TNP Track Dolly Slider can be used on a flat surface or tripod thanks to the adjustable and removable legs. The legs have rubber feet to prevent skidding. There are several different ¼" and 3/8 screw holes which are located in the middle and both ends. This makes multiple mounting options possible. You can take dynamic shots with low noise thanks to this track slider. It has a protective carry bag and even a bubble level indicator.
---
back to menu ↑
DEV 4# Glide Gear Video Camera Slider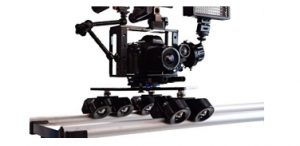 This camera slider has two aluminum rails that are four feet each, and two aluminum track mounts. The aluminum base plate is 1/3 inches thick and also has several durable wheel mounts. The DEV 4# Glide Gear Video Camera Slider even has 28 accessory mount taps which can e used for accessory mounting in a wide range. This grade slider system is professional grade, so it is one of the best of its kind. While you are tracking various subjects you can enjoy glass-like movement thanks to the frictionless wheel platform and custom designed base plate. The custom tripod mounts are locked in by the aircraft grade aluminum rails. This makes for great versatility regarding sliding shots and focal lengths. The base plate on the DEV 4# Glide Gear Video Camera Slider has multiple 1/4-20 and 3/8 taps which can be used to mount accessories.
---
back to menu ↑
Kamerar SD-1 Mark II 23″ Camera Slider With Wheel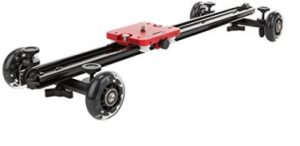 This best-rated DSLR camera slider has four nylon rollers that are new as well as a ¼" and 3/8" screw adapter which can be used to mount a head or camera onto the siding plate as well as a stop break. The KAMERAR SD-1 Mark II CAMERA SLIDER has removable legs that are complete with four smooth bearing dolly wheels for easy relocation and movement. Each side of the slider has two balance weight connections which allow you to make a pulley system or add additional weights. The roller bearings can not only be adjusted they also come with a polymer coating that is frictionless. This ensures a smooth slide with the KAMERAR SD-1 Mark II CAMERA SLIDER. The bottom plate is compatible with Arca-Swiss. The smooth bearing wheels let you use the device as a dolly and the slider dolly lets you use it as a standard slider, whichever you choose. Shoot dynamic and creative angles by adjusting the legs at various angles with this DSLR camera slider.
---
back to menu ↑
Pangshi Pro DSLR Camera Slider (
24″ 60cm

)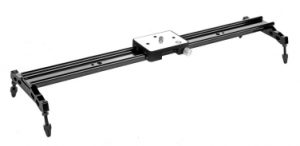 When it comes to being versatile, smooth, and quiet, this camera slider excels. Mobilize your equipment—whether it is a digital camera, video camera, movie camera, or anything else with the pangshi Pro DSLR Camera Slider. The subject can be depicted at a different angle as the camera slides across the slider to capture images. While shooting you can enjoy the benefits of support and shake free stability that the professional camera slider can give. It can be used on a flat surface or on a tripod thanks to the adjustable legs suited with feet that are rubber and non-skid. It has more than one ¼" and 3/8" screw holes located in the middle and both ends of the camera slider. This provides various mounting options. Enjoy the benefit of vertical, horizontal, and even diagonal movement when filming thanks to this ultra-compact dolly slider. It can be used for slow motion video or video cinematography. The pangshi Pro DSLR Camera Slider has a double interior rail system which utilizes four precise bearings. This ensures smooth movement, always. The bearing tension can be adjusted and it also has a bubble level. This is a great cheap camera slider.
---
back to menu ↑
Proaim Spark
13″

Camera Video Slider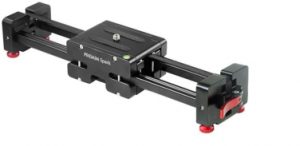 This great camera video slider is versatile in that it has enough length to max out your range of motion yet it is small enough to get into those tight fits. The Proaim Spark Camera Video Slider is composed of high-grade material making it quite durable and sturdy. Use it on a tripod or on the ground. If you are using it on the ground the adjustable feet will let you level it on surfaces that are non-uniform. If you use it on a tripod you can achieve double the travel distance of a regular slider camera. The Proaim Spark Camera Video Slider is also very portable due to the compact size. Have an operation that is smooth and free of noise thanks to the belt driven system. This lets the rails move along easily with the carriage. It has standard camera mounting screws which give you greater variety when it comes to DVs, DSLR, SLR cameras, and professional camcorders. The rubber feet are adjustable and eliminate scratching on the table and other delicate places. They also provide more accurate leveling when you are on difficult surfaces. The thread setting matches virtually any tripod with ease. It has a lever break lock and a luxurious storage case.
---
We hope that these detailed camera slider reviews give you the information you need in order to take your film or photography to the next level. Camera sliders are a great tool to have for any photographer or filmmaker, the challenge comes with finding the one that is perfect for you and your situation, which is why we have made this list. Camera sliders give you the stability like DSLR Steadicam and protection that anyone shooting film needs to produce the best video or photography. You also won't have to worry about getting your equipment damaged, as a camera slider will give everything greater protection.