A vinyl cutting machine is a device that looks similar to a computer printer and operates by using a sharp blade. It takes out much of the stress and works involved when trying to create a design on vinyl, but it isn't limited to vinyl alone. Vinyl cutting machines may also be used for the purpose of cutting banners and billboards. Regardless of how you plan to use a vinyl cutting machine, it is important to find the right one. Here are the top vinyl cutter reviews so that you can find the best vinyl cutting machine for you.
Top Rated And Best Vinyl Cutting Machines Reviews

Silhouette Cameo Electronic Cutting Machine Vinyl Starter Kit Bundle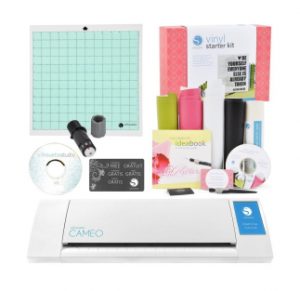 Looking for the best vinyl cutter? Here is a good place to start. Via a USB cable you can plug this machine into your computer and get to work on your projects. It will work on anything that is within the parameters of 10 feet long and 12 inches wide. You can also switch in a pen in place of the blade to make drawings and sketches. It is PixScan compatible and capable of registering and cutting printed materials. The touch screen control makes it even easier and simpler to get work done. This is a great DIY machine for anyone who enjoys or frequently works on this type of project.
---
back to menu ↑
USCutter Vinyl Cutter Plotter with Stand (28-inch )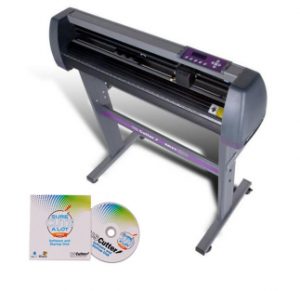 This vinyl cutter plotter comes with dual position carriage. The front position is what you will use when you want to implement a marker or pen. You will also be able to use a variety of materials thanks to two fully adjustable pinch-rollers. Another thing which makes this particular machine so great is the time it allows you to save compared to many other vinyl cutter plotters. You will be able to put material on top of the rollers because of the advanced media roller system, which is better than putting roller through the material. It comes with Sure Cuts A Lot Pro – Design and Cut Software. The most economical blades around will be available to you thanks to the Roland compatible blade holder.
---
back to menu ↑
Cricut Explore Electronic Cutting Machine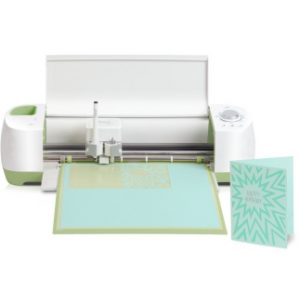 You can either upload and cut images of your own or you can access thousands which are available from the Circut Image Library. It is quiet, easy to use, and operates with considerable precision. You can make wall art or custom stickers in full color due to the Print then Cut capability. It only takes one step to cut and write or score. Print images in full color then cut them out with detailed precision with this electronic cutting machine. Every time you make a cut you will get superior accuracy. It is capable of cutting more than 50 different kinds of material, including felt, fabric, poster board, vinyl, cardstock, and much more. With the free online software, you will get it will be easy to get creative and make projects in a matter of minutes. This machine was built to be functional and intuitive and to provide the best experience possible when it comes to open creativity.
---
back to menu ↑
Brother ScanNCut CM100DM Home and Hobby Cutting Machine with a Built-in Scanner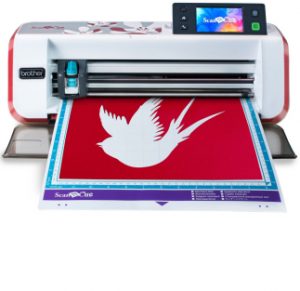 This particular cutting machine has its own built-in scanner and requires neither a computer or design cartridge. The thing about this particular machine which makes it so unique is the built-in scanner because it is the first device like it with this particular feature. This will make it much easier for you to make signature pieces. You can control the setting with the touch screen which is lit up with LCD light as well as color. This is also a fantastic machine for sewing or quilting because it can easily cut fabric just the way you want. With it, you can use 2 erasable pens and 6 drawing pens. You cam combine fonts, drawings, and shapes thanks to the welding feature. It has fit-to-page space saving capabilities that help you to preserve as much material as possible, cutting down on waste. You can even scan things and save them on a USB. It offers on-screen editing, sewing guidelines and seam allowance, and a large area for scanning and cutting.
---
back to menu ↑
Cricut Explore Air Wireless Cutting Machine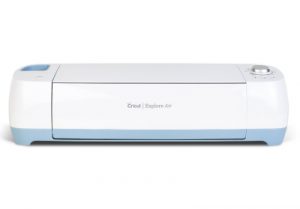 This is a fairly cheap vinyl cutter. Wireless is the big future for almost everything, or so it seems, and that is where this wireless cutting machine comes into the picture. Without wires, there is less mess and more space. This also means that you can take it with you anywhere to design and create, with quite a bit of ease, as long as you have a compatible wireless device or computer. It has more than 50,000 fonts, projects, and images to choose from, and aside from that, you can upload your own. Make a range of things, from decorations to invitations, to birthday and party invitations. There is a range of materials you can cut, including vinyl, cardstock, paper, fabric, and poster board. There are no settings required, it's easy. Whether big or small you will always be making clean cuts.
---
back to menu ↑
Silhouette Cameo Starter Bundle (Old Model)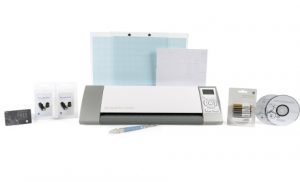 With this machine, you can utilize more than 50,000 designs, make your own images, trace designs, and cut and draw fonts on your computer. It comes equipped with the most powerful  and best designing software available which pertains to consumer digital cutting and designing. It is great for professionals and novices alike because it is easy to use and can make intricate cuts. The Silhouette Cameo Starter Bundle will help you create vinyl décor and cut fabric for your sewing, embroidery, or quilting projects. You can even create handmade cards and invitations, custom apparel, and also sketch designs.
---
back to menu ↑
Silhouette Portrait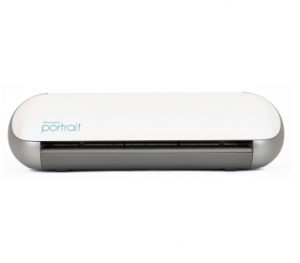 If you want a cheap and best vinyl cutter of good quality, then this is a good device. This machine is similar to the Silhouette Cameo electronic cutting tool, but it is smaller. It connects to the computer and has included software and thousands of designs available from the store. It can cut a variety of materials including vinyl, fabric, cardstock, and paper. It works on almost anything 8 inches in width and 10 feet in length. It can also register and cut printed materials, which can be quite useful. There is no need to worry about cartridges. Designs are easy to adjust and you can print full-color images. The blade can be replaced with a pen, and you can download designs online as well as fonts already on your computer.
---
back to menu ↑
USCutter Titan 2 Vinyl Cutter with Servo Motor And Cut Software – 28-Inch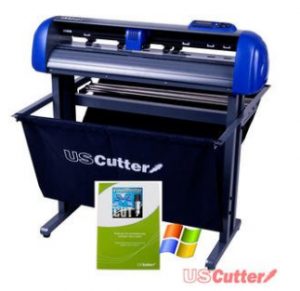 This vinyl cutter machine comes with variable cutting force and speed options. It can be used for materials like hard paperboard window film, sandblast stencil, mask material, adhesive vinyl, and many others. With the laser registration mark reading, as well as software, contour cutting comes easily. It also has a lighted LCD screen and spacious control panel. The machine itself is built to be strong and durable thanks to the aluminum alloy construction. It is compatible with both Windows and MAC and has a USB interface built-in. The program and general operation are easy-to-use. The features are state-of-the-art and new. It Comes with Stand, Servo Motor and Cut Software
More Cutting Force And Speed
If you need more cutting force and speed options then this model is the best Vinyl Cutting Machine for you.
---
back to menu ↑
Silhouette Cameo + Vinyl, Tool Kit, Pix Scan Mat, 12 Exclusive Vinyl Designs and 4 Sketch Pens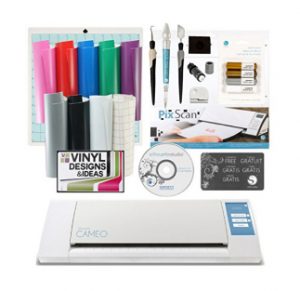 Included with USB port, this Vinyl machine also has a cross cutter and best LCD touch screen display. It doesn't require cartridges, either. There are many design possibilities available and it is easy to transport and hook up to the computer. It will work on fabric, photo paper, scrapbooking paper, postcards, drawing paper, and vinyl. You can customize your own designs, make use of 100 free images, or download just about anything you want. You can do a range of things with this machine, from creating stamps and birthday cards, to glass etching and home decorating. It is included with a mat and blade as well as 8 vinyl adhesive sheets, 4 sketch pens, tools, and transfer paper. It can cut anything within the range of 12 inches wide to 10 feet long. It is also fairly quiet.
Good For T-Shirts
This Vinyl model is best for T-shirts, Home Decor, customer clothing, 3D objects, stickers, decals, birthday cards and much more.
---
back to menu ↑
Silhouette CAMEO 2 Starter Bundle with Vinyl Kit (Touch Screen)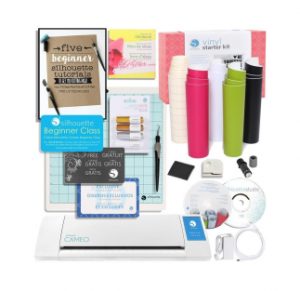 Use a USB cable to plug this device straight into your Mac or PC. The small blade can cut a range of materials (up to 12 inches wide) and 10 feet long. It can also be used for sketching when the blade is replaced with a pen. You will have the option of saving your art to a USB and plugging it into the machine or controlling it from the computer. It is PixScant compatible and capable of registering and cutting printed materials. You will also be able to enjoy 100 exclusive designs. If you are looking for the best touch screen vinyl cutting machine this is a good choice.