Are u Agree On This? A considerable amount of effort and work go into having a beautiful lawn or garden, and getting the best weed killer is key.
Aside from keeping things trimmed and removing any dead plants, you also have to keep everything watered. On top of all of this, there is the issue of weeds. Nothing destroys the appearance of your yard quite like weeds. Not only do they choke out the pretty plants which you want, they are generally ugly and make a disheveled and unkempt appearance. This can completely set back all of the work and care you put into keeping your lawn or garden looking nice. Of course, there is the option of pulling out weeds by hand, but this is an arduous and long task which can consume a lot of time and energy. Weed killers and grass killers make this completely unnecessary. A good weed killer can eliminate the pain of manually getting rid of weeds. The earlier you get a jump-start on uprooting the weeds in your garden or yard the better. If you work in your yard you probably already know how quickly weeds can spread which is one of the reasons they're such a plague.
Our Top 10 Picks For The Best Weed Killers Of 2017
Compare-N-Save Concentrate Grass and Weed Killer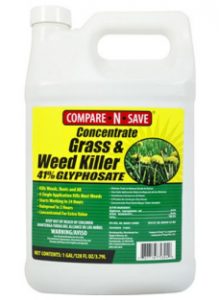 The active ingredient in this weed killer is glyphosate. This amazing ingredient can kill those ugly weeds or grass with one single application, that's all it takes. Compare-N-Save Concentrate Grass and Weed Killer can be used to clean up walkways, driveways, and pathways of grass and weeds. It can also be used along fences where it is more difficult to maintain an orderly appearance. If you have landscaping in the form of shrubs, trees, or flower beds, you can spot spray the weeds to keep the area looking nice. It can be used in and around your vegetable or fruit gardens, all you have to do is follow the label to use it safely. It isn't suggested to use it for spot spraying lawns because it will kill all green plants, and lawn grass is no exception. For best results, it is suggested to use it on a sunny day when the temperature is above 60 degrees and there won't be any rain for a day. One gallon of water can be mixed with 3 tablespoons or 1.5 ounces but if you are dealing with more aggressive weeds you can use 2.5 ounces or 5 tablespoons. A single gallon can cover a broad area of 300 square feet. If there are plants you don't want to treat then be careful of spray mist drifting around. Because glyphosate is a post-emergent herbicide you can plant in the sprayed area in a single day, due to the fact that it does not inhibit future or new growth.
---
back to menu ↑
Ortho Weed B Gon Weed Killer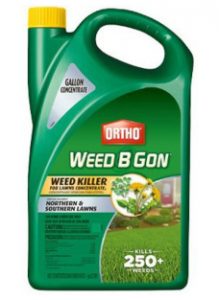 Kill annoying weeds like clover and dandelions as well as other broadleaf weeds with this weed killer spray. It works by targeting the root and it won't hurt your lawn. As long as you use it just as directed you won't have to worry about any harm coming to your beautiful lawn, only the weeds you want to kill. Ortho Weed B Gon Weed Killer works on more than 250 different kinds of weeds and it is even waterproof within only one hour. You can start to witness the results in a matter of hours. It is compatible with a variety of glasses, including but not limited to St. Augustine, Bluegrass, Fescues, Ryegrass, and buffalograss. Whether you need to use this weed killer for large or small areas it will work well and provide a great value. 32 ounces can cover 16,000 square feet and one gallon can cover an astounding 64,000 square feet. It is ideal for spot treatments and comes in differences sizes with either a comfort wand or trigger. The comfort wand gives you precise and accurate control over where you spray.
---
back to menu ↑
Roundup 5705010 Extended Control Weed and Grass Killer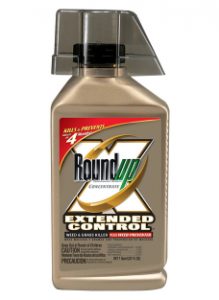 Not only can this dual-action weed killer wipe out existing weeds it can also prevent new ones from sprouting for as long as four months which is why it has been called the best weed killer. This is a big benefit because it means you won't need to retreat your yard quite as often. Not worrying about weeds gives you more time to do spend elsewhere. The best results can be seen if you use it on a warm and sunny day, and it is also rainproof in half an hour which is a very short period of time. If you use it correctly Roundup 5705010 Extended Control Weed and Grass Killer will work by attacking the root and killing weeds so they can't return. It is ideal mainly for big areas and gives you a great value. This is one of the more economical ways you can treat get rid of weeds in your yard. Whenever you are using this product make sure to follow the directions. Just spray the existing weeds as well as the entire weed-prone area.
---
back to menu ↑
Bayer Advanced 704140 Weed and Crabgrass Killer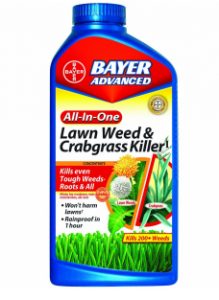 If used as directed this product kills both crabgrass and lawn weeds without negatively affecting or causing harm to the lawn itself. That being said, it shouldn't be used on certain kinds of grass. Bayer Advanced 704140 Weed and Crabgrass Killer can kill more than 200 broadleaf weeds including clover, dandelions, and other common weeds most people have in their yards. It can even help to control grassy weeds including crabgrass. In only one hour it is rainproof, meaning you can water your lawn or it can rain an hour after you've sprayed but the crabgrass and weed killer will still be effective. The lawn can be mowed a couple of days after spraying. This weed killer is great to use on a broad spectrum across the whole lawn since it won't harm your lawn itself, just make sure that the type of grass you want on your lawn isn't on the list of grass harmed by the weed killer.
---
back to menu ↑
Spectracide Weed & Grass Killer2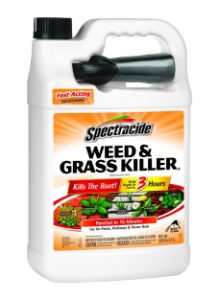 In as few as three hours you will start to see visible results from this weed killer spray. It works by entering the body of a plant through the leaves and then targeting weeds at the root to effectively kill them. This also makes sure that the plant is completely killed and this is why it has been called the best weed and grass killer. It is rainfast in a mere 15 minutes. Spectracide Weed & Grass Killer2 is safe and can be used on walkways, patios, and flower beds, as well as around foundations, shrubs, and trees. This weed and grass killer provides the easy and fast way to get rid of weeds and unwanted grass around your home landscape and yard. It is non-selective, meaning that it will kill any plants which come in contact with it. Because of this, you will have to be wary of drift by avoiding the direct spray, otherwise, the formula could end up on plants you want to keep alive. Using cardboard or plastic is another good way to protect them, and you can also rinse them off immediately after they are sprayed with water.
---
back to menu ↑
Southern Ag 2,4-D Amine Weed Killer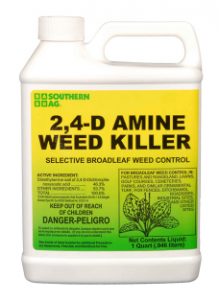 This weed killer can be used in a variety of places including pastures, golf courses, and parks. It works well in corn, small grains, and non-crop sites. You may also use it in your own lawn or around fences. It functions as both post and pre-emergent herbicide, and it helps to control many common types of broad-leaved weeds. 3-5 gallons of water can be combined with 2-3 TBS and it will cover 1000 square feet. A fan-type nozzle works best and you should use a course spray that is low pressure to apply the contents. It is important to avoid drift so you don't kill the plants you want to have, and follow all directions to get the best results.
---
back to menu ↑
Scotts Halts Crabgrass & Grassy Weed Preventer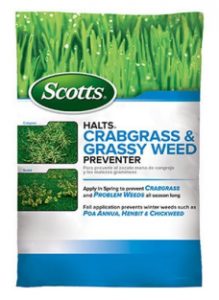 Simply use this weed killer spray in the spring in order to prevent crabgrass and weeds from coming into your yard. Apply Scotts Halts Crabgrass & Grassy Weed Preventer in early spring to avoid problem weeds like oxalis, goose grass, crabgrass, spurge, foxtail, and others. It has results which last throughout the whole season. Alternatively, you can also use it in the fall in order to prevent winter seeds from living, such as chickweed, henbit, and poa annua. It works well in the fall because freezing weather and snow won't have any negative effect on the performance of the weed killer—neither will rain. It should not be used on bentgrass or dichondra lawns. It can cover an area of 5,000 square feet.
---
back to menu ↑
Roundup 5200210 Weed and Grass Killer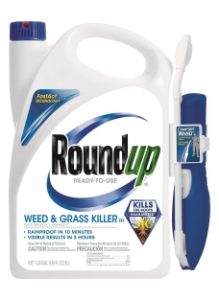 You don't have to mix this formula which makes it much more convenient than many other products out there. It is made to be used both around and in mulched beds, tree rings, flower beds, and vegetable gardens. Roundup 5200210 Weed and Grass Killer can be applied to cracks in patios, walkways, and driveways as well. Visible results can be witnessed in as little as three hours and it is rainproof in a matter of 10 short minutes. Because it works by killing weeds at the root you won't have to worry about them returning, it completely eliminates them. This weed killer provides a simple effective way to keep your mulched beds, patio, and driveway looking their best. It is very easy and ready to use, all you have to do is connect the wand then extend it and apply. It is capable of treating as much as 400 square feet. The unique comfort wand features continuous spray and it also takes away hand fatigue and the need to bend over in order to spray. As long as you read and follow the directions you will get great results.
---
back to menu ↑
Preen Garden Weed Preventer
This weed preventer keeps weeds from germinating where you don't want them, such as in vegetable gardens, ground covers, flower gardens, and around shrubs and trees. Preen Garden Weed Preventer won't kill existing weeds, but it can be used to kill grass and it ensures new weeds don't infest your yard. Hand-weeding can be challenging and time-consuming, but with this weed preventer that won't be an issue. Keeping weeds out of your yard is much easier than dealing with them after they have already taken root and grown. All season you can enjoy a lawn and garden free of weeds. When you don't have weeds in your yard it also means the plants you want to grow will become stronger and larger, thriving much easier. Use it around established transplants and plants during the growing season, pretty much anytime. It shouldn't be applied to flower seeds but it can be applied after flowering plants have already germinated and have grown to be about two or three inches. It may be applied to the soil or used after mulching beds. Rain won't wash it out of the ground. For best results use Preen every 9 to 12 weeks.
---
back to menu ↑
Southern Ag Lawn Weed Killer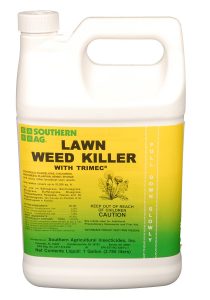 Although Southern Ag Lawn Weed Killer can be used on St. Augustine it shouldn't be used on improved St. Augustine varieties. It can be used on other types of lawns as well, including fescues, rye, blue grass, bahia, and bermuda. Use one to one or more ounces per gallon in order to cover an area of 400 square feet. It is suggested to use a faint nozzle and utilize a uniform spray on turf. You may also follow the direction on the label if you are using a hose end sprayer instead. It is important to be wary of drift on trees and shrubs as it could harm them. The accurate spray will help to achieve full coverage. It is a potent combination of several weed killers which have already been proven and can control a wide variety of lawn weeds.
---
What Is a Weed Killer?
A weed killer is also known as a herbicide. Put simply, they are a combination of chemical substances which are used in order to kill and/or prevent the grown of unwanted plants, mainly weeds and certain types of grass. Selective herbicides eliminate one specific type of weed species but don't hurt other plants. These are good as they don't generally kill or harm the desired crop. There are also non-selective herbicides or total weedkillers which kill all plants they are applied to or come in contact with. These are frequently used on construction sites, waste ground, and other areas where no plant materials are desired.
While some weed killers are used more to prevent weeds than kill them, others may do both. Preventative products are used to keep weeds and unwanted plants from cropping up rather than killing existing ones. There are many weed killers on the market which feature different benefits, cover different areas of ground, and target different plants. They are a very popular method for getting rid of unwanted plants because they are relatively easy to use especially when compared with weeding a yard or garden manually.
---
How to Choose a Best Weedkiller for Your Lawn
What Weeds Do You Have?
It isn't easy to find the best weed killer for lawns unless you know what to look for. Different kinds of weeds tend to grow in different climates depending on where you live. Take into account the type of weeds you have in your yard or garden and before you buy a type of weedkiller be sure it can take care of the kinds of plants you already have. It would be a waste to buy the wrong kind only to have it kill the wrong kinds of weeds or else not target the plants you don't want to get rid of. Some spruges only live for a single season whereas others are annual, like foxtail and crabgrasses. Perennial weeds include dandelions and nutsedge. These tend to sprout up year after year, always from the same basic root system.
You may not know how to find out what kinds of weeds you have, but this is an easy problem to take care of. Online resources are in abundance and they can provide great help. Simply find a good website with a database of weed photos and compare the pictures to what lives in your yard. This can help you to identify the plants you don't want. After all, it's impossible to proceed with this first initial step until you fully understand the types of weeds or grasses in your yard.
---
Kill Existing Weeds or Prevent New Weeds
a preemergence herbicide is the type of weed killer which keeps weeds and unwanted plants from coming up in the first place. The main thing to watch out for with preemergence herbicides is to see that it will be effective on the weeds in your yard, so all you have to do is check out the list. They are very useful when it comes to crabgrass. If you are anticipating certain annual weeds this is a good type of weed killer to use. If possible it would seem best to beat the problem before it arises, but this is mainly if you are sure about the kind of weeds you will be dealing with. Postemergence herbicides work on weeds that are already growing and living in your yard. They target the plant system and essentially kill it.
---
Selective vs. Non-Selective Herbicides
While some post-emergent herbicides are selective, others are non-selective. This type of herbicide is slightly more risky unless you use it correctly, as it can harm the plants you want in your yard in addition to weeds. Non-selective herbicides are very useful for fence lines, walkways, patios, driveways, and other locations where you want to eliminate all vegetation in the area. If you are using it somewhere that desirable plants and weeds are in close proximity it would be wise to use a very precise spray or foam applicator to prevent drift onto the good vegetation.
---
Weed and Feed
If you are working in your lawn you may consider a weed and feed or "all-in-one" option. These are great because they feed and give nutrients to your lawn while simultaneously preventing the sprouting of weeds. Some of these weed and feed products even have postemergence and preemergence herbicides which are even more beneficial. The biggest key is to make sure it won't negatively affect the type of grass which makes up your lawn.
---
How much Herbicide
If you are only treating a small area in your yard and you don't need a lot of product then it may be best to get a ready-to-use weed killer. These don't need to be diluted with water and are like the name implies–already ready-to-use. On the other hand, if there are a lot of weeds you are needing to treat in a larger area, then it may be better to get a more concentrated weed killer. Although not as convenient, they are more economical in such a situation. Most weed killers will list the square feet that they treat so pay attention to this fact when selecting the right herbicide.
---
Conclusion
Many people spend an ample amount of time in the yard or garden, pruning, mowing, watering, and otherwise maintaining a beautiful outdoor appearance. This can require a lot of work no matter what kinds of plants you have or how much maintenance you put into it. Weed killers provide a great deal of assistance, making the task of upkeep much easier in your yard. Weeds are unsightly and they can be very destructive to the desired plants that you have, such as flowers, vegetables, and the lawn itself. Weeds also tend to spread like wildfire and they can be difficult to remove manually.
All of these reasons combine to make weed killers so useful. They are simple to use, all you have to do is spray them on the targeted area—which is fairly easy compared to pulling weeds by hand. The next question becomes what type of weed killer should you use in your yard or garden? This will depend on the type of weeds you have and whether you want to stop them before they grow or kill existing weeds. Determining these aspects will help you settle on the best weed killer for the lawn.