9 Best Inflatable Hot Tub Reviews
Hot tubs are a popular choice for many individuals. There is nothing quite like a big tub of hot water the help you unwind and relax, and it can be a great experience to share with friends, family, or your partner. Traditional hot tubs, however, can be incredibly expensive as well as require quite a bit if maintenance.
Inflatable hot tubs have the advantage in that they are more affordable, portable, and require less work altogether. Here are 9 inflatable hot tub reviews to help you find the best inflatable hot tub for your situation and lifestyle needs.
Best Inflatable Hot Tub Reviews
Coleman Lay Z Spa – Inflatable Hot Tub ( 4- 6 Person)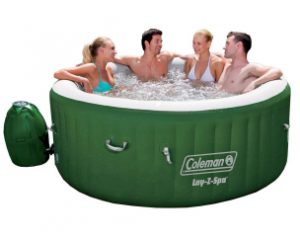 Featuring a digital control panel, this Lay-Z-Spa has a heating system that is timer-controlled and includes start and stop automatic capabilities. All you have to do is select the desired temperature and then activate the massage system, ensuring you have a spa experience that is soothing and relaxing. It has a cushioned air pad floor that is located under the spa. The reason it has this special floor is to reduce heat from leaking out of the bottom of the spa, and it also helps to keep the backside and feet more comfortable.
I-Beam construction was used in the making of the walls in this spa. Because of this smart design, you can sit on the sides of the hot tub and you won't have to worry about the walls buckling or bending. There are not many other spas in this class which offers this capability.
Highlights:
It is puncture resistant and leatheroid.
The spa is also made with material that is TriTech 3 ply and it is reinforced.
The core is made out of polyester mesh and the core is encased in PVC layers. This gives it more durability and strength.
It can fit 4-6 people, it is easy to operate, easy to set up and fast—there are no tools required.
---
back to menu ↑
Intex 77-Inches PureSpa Portable Bubble Spa Set For 4 People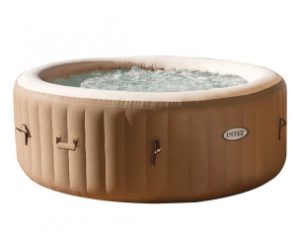 The hard water treatment system is built-in and makes for an experience that is gentler and more soothing on the skin. The cover comes with a lock and it is insulated. This ensures that you don't lose as much heat, and also gives you additional safety. There are two filter cartridges which are easy-to-replace so that you can always have spa water that is clean and refreshing. It comes complete with a carry back, inflation hose, filter cartridges, thermal ground cloth, chlorine dispenser, test strip, and a heating system.
Highlights:
The spa set is good for 4 people and it has a water capacity of 210 gallons.
Enjoy hot water and bubble jets.
The control panel is easy-to-use and provides a massage that is relaxing and refreshing.
It is three-ply laminated and puncture resistant.
It has a built-in hard water treatment system, it is made to prevent the build up of hard water, and it utilizes advanced technology which works by making suspended crystals.
---
back to menu ↑
SaluSpa Miami AirJet Hot Tub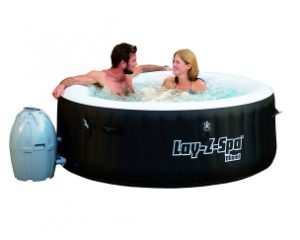 This is the very first premium inflatable spa that the world has seen. It can be taken anywhere and set up either outside or inside in a matter of mere minutes. It fits as many as 4 adults and utilizes some of the newest engineering innovations. No tools are needed and the setup is easy. The massage system is easily activated with the control panel and it has 120 bubble jets.
If you want to soak sore muscles and unwind this hot tub is perfect for the task. You won't even have to leave the tub in order to adjust the heat settings. With 3-ply reinforced material and a polyester mesh core which is surrounded by laminated PVC, this hot tub is strong and durable. It is made with sturdy construction.
---
back to menu ↑
Coleman SaluSpa 4-Person Inflatable Outdoor Spa Hot Tub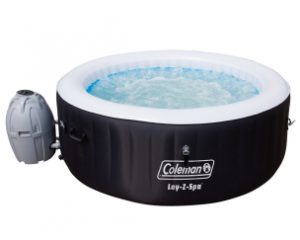 With heated water and bubble jets, it's easy to relax. This portable spa hot tub is for the outdoors and it has a control panel that is soft-touch as well as a pump which is digitally controlled. The inflatable pool has outer walls that are composed of material coated in fabric. It has two handles which make it easy to transport and maintenance is very easy with two filter cartridges that ensure the water is clean and refreshing. It can seat four people and it is utterly portable. It's easy to take it with you on vacation or use it in the comfort of your own house.
Highlights:
There is a cushioned floor, massage jets, and unwinding is easy.
The digital control panel can be reached and adjusted from inside the tub, so you don't have to leave the comfort and relaxation of the water.
I-Beam construction is also used in the design which means you can actually sit on the side of the spa.
It features two handles and everything you need to get started.
---
back to menu ↑
SaluSpa Palm Springs AirJet Inflatable Hot Tub – 4 – 6 Person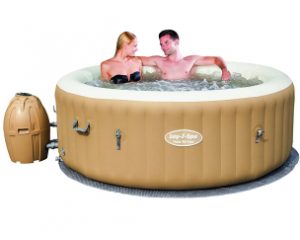 Set up is easy, there are no tools required, and you can use the spa's own pump to inflate. It has a water-filtration and rapid heating system. It can seat 4-6 people and the water capacity is 242 gallons. Enjoy a genuine premium spa experience with this hot tub. It has a leather appearance and texture which makes it fashionable as well as comfortable and luxurious. Within a matter of minutes, you can set up this spa in either the indoors or outdoors. Either on the lawn or wooden deck, it will look fantastic.
Highlights:
It has more room and greater water depth meaning more space altogether.
Unwind, soak sore muscles, enjoy fun with friends or a romantic treat.
Operating the spa is easy thanks to the Digital Control Panel.
Activating the system and adjusting the temperature are all simple and ensure you have the best experience.
It has a puncture-resistant exterior that is also leatheroid.
---
back to menu ↑
Intex Pure Spa 6-Person Inflatable Hot Tub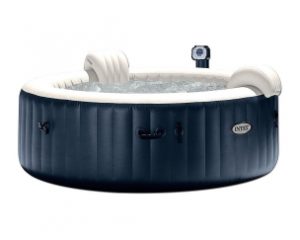 Enjoy bubble jets and heated water with this portable hot tub. It has a control panel which is easy to use, and this same control panel can turn on the 120 high-powered bubble jets inside the spa. These bubble jets create a relaxing massage. In approximately 20 minutes this hot tub can be ready for the water. Deflating it is easy and storage and transportation are also very simple and stress-free. Water is more effectively heating due to the fact that the air is heated before going through the water creating bubbles.
Highlights:
It features inflated headrests that allow you to relax your head and it is easy to maintain.
It has a couple of cartridges that are easy-to-replace.
It uses fiber-tech construction and almost 50 Fiber-Tech beams. This means it is strong enough for you to sit on the side of the spa.
---
back to menu ↑
Intex Pure Spa Inflatable Portable Hot Tub – 4 Person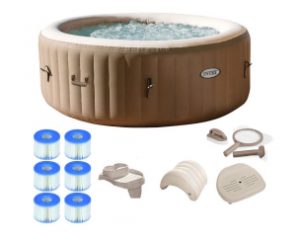 This hot tub can seat as many as four people and it has a control panel which is easy-to-use. It activates 120 high-powered bubble jets which are on the inside of the spa and give you a relaxing massage. In only about 20 minutes the hot tub can be set up and ready for water. It is easy to deflate, store, and transport this hot tub. Most spas have cold air that bubbles through the water, but this spa heats the air first.
This means the water retains heat better. A touch of a button is all it takes to adjust the temperature or activate the jets. The water is refreshing and clean thanks to the filter cartridges. It has a hard water treatment system that is built-in. This means that the water is more soothing and gentler on the skin.
---
back to menu ↑
MSpa B-130 Camaro Inflatable Spa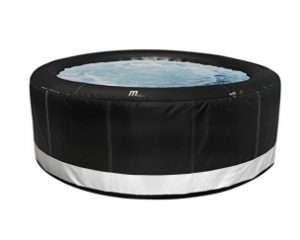 This spa gives you the benefit of a nice soak in therapeutic water. Reconnect with loved ones and relax and unwind. It has 110 air bubble jets, a built-in heater, and it is made out of synthetic PVC leather. After a day of hard work, it's nice to have a hot tub to come home to. It features smart inflation and can fit four people.
---
back to menu ↑
Coleman SaluSpa Lay-Z-Massage Inflatable Spa Hot Tub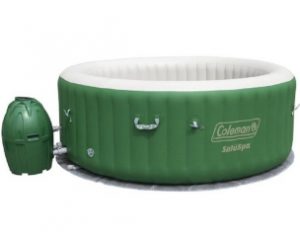 This Inflatable Hot Tub features an integrated water filtration, a heating system that is rapid, and a massage system you can activate with one button. There is a pump which is digitally controlled as well as a control panel that features soft-touch. The hot tub is pre-tested and so is the pump. It has enough space for 4-6 adults and greater durability and comfort thanks to the walls that are TriTech inflated.  If you are looking for the best portable spa hot tub this is a great choice.
---