Best Gaming Chairs for Adults – 2017 Reviews
When looking for a gaming chair, I'm sure you've found that it is difficult to find the best gaming chairs for adults. Most people think just kids are gamers, adults are gamers too and should be able to find a comfortable gaming chair that they can use an adult gaming chair.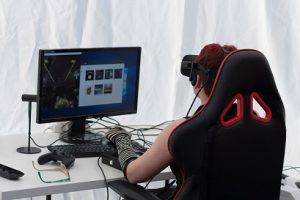 Gaming chairs have come a long way since they first came out, with better technology today's gaming chairs allow you to immerse yourself into not just the game, but the sounds of the game too and gives you an amazing game experience for hours on end.
In this article, we will look at a few adult gaming chair reviews to help you find the best gaming chair that fits your needs, whether you are a hardcore gamer or casual gamer.
With this information in hand, you'll be sure to find the right gaming chair for you.
Best Gaming Chairs for Adults
X Rocker 51396 Wireless Video Gaming Chair – Pro Series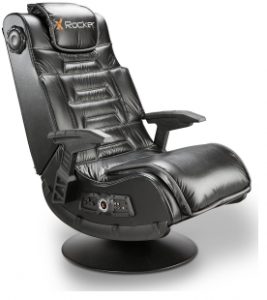 The X Rocker Pro Series has some great reviews out on it. This chair will not only fit the average sized adult, but tall adults can use this chair with comfort too. For being faux leather (vinyl) fabric, the chair is actually pretty comfortable to sit in.
This chair has two side speakers and a subwoofer to not only allow you to hear the music but feel it too. It has a control panel where you can control the main volume and the bass separately, so you have control. The sound is nice and since it's right there in your head, you won't miss anything even if you have the volume on low. These chairs can also be hooked up and set up side by side with another X Rocker chair so you can game with a friend too.
There is a pedestal that the chair sits on so it elevates you off the floor so you won't be sitting directly on the floor, it also makes it more comfortable for your legs in my opinion. You can also swivel the chair so you can really get into your gaming experience.
All in all, the X Rocker Pro Series chair got great reviews from most satisfied customers, most of them loved the experience they had with it.  The only real complaint was that it shut off from time to time on some people. Come to find out, that if you pause your game, the chair doesn't sense an audio source anymore so it automatically shuts off after a period of time with no sound being transmitted. Other than that, there really hasn't been many complaints.
If you're looking for a gaming chair and don't have a lot to spend, this chair will fit your needs, it has all the bells and whistles without a high cost.
---
back to menu ↑
Best Office – Chair High-back Recliner Office Chair Computer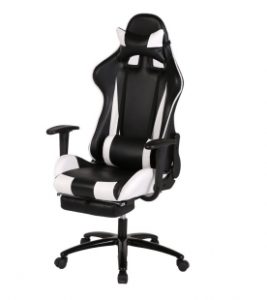 Now, I know this says office chair, but it makes a very comfortable gaming chair for when you're playing online computer games or just games on your computer.
The style of the chair is like a racing seat you'd find in race cars, it really looks cool. Not only is it cool, the chair has an ergonomic design with lumbar support, high back, and headrest to make your gaming or office experience more comfortable and gives you the support you need for those long sessions.
The chair can lean back for more comfort or a quick rest, it can even go to 180 degrees to lay down completely and take a quick nap in the office. It also has a footrest that can be pulled out for when you're leaning back and tuck away when not using it.
The chair has a tubular steel frame, so it's not a wimpy office chair that will fall apart easily and is on a metal star base on casters. The chair swivels in any direction you want, so if you have to turn around to answer someone, it's no problem
Another great thing is because of the tubular steel frame and size of this chair, it's comfortable and can be used by more than thin people.  The maximum weight this chair can hold is 250 pounds. Now the amazing part about the chair is that it says it can hold up to 250 pounds, but someone who is 250 pounds can sit comfortably in this chair and won't feel squished in the racing style seat.
This adult chair is a good deal for anyone looking for a comfortable chair for their desktop gaming experience. The racing style seat is comfortable and it looks cool too.
---
back to menu ↑
Kinsal Gaming Chair For Big And Tall – Lumbar Pillow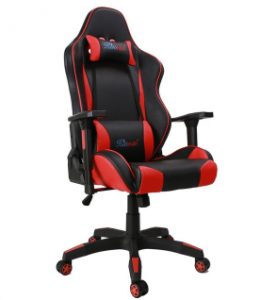 This gaming chair by Kinsal is made with comfort in mind. They made this larger chair because they realized that not all gamers are kids, nor skinny geeks. They decided to make this cool racing seat style chair to be able to accommodate all gamers.
The high back, racing seat design is a popular style now in these types of gaming chairs. Lumbar support to help keep your back comfortable during those long gaming sessions and the headrest cushion makes this a comfortable chair to sit and play your games for hours on end.
If you don't want to stay sitting up, you can recline the chair back 90 and even 180 degrees and don't worry about your legs being uncomfortable if you recline, the pullout footrest helps with that. The 90-degree angle is still comfortable for laying back and gaming and if you need to take a rest, put it all the way down.
The tubular steel frame and is strong and the steel star base on casters allows you to swivel and move the chair around with ease. What sets this chair apart from the others is that it will accommodate an adult up to 280 pounds. Not only does it accommodate an adult that size, it does it comfortably, you won't feel squished in the seat, which is a big complaint about this racing style of seats.
If you're a gamer, but not just the average size, this adult gaming chair is perfect for you. You can spend hours upon hours of gaming in comfort with this gaming chair.
---
back to menu ↑
Homall Executive Swivel Leather Gaming Chair With Lumbar Support and Headrest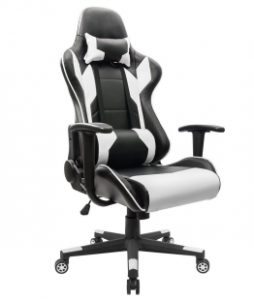 This swivel gaming chair by Homall is a best seller for the price. This gaming chair has what you need for a comfortable gaming experience, whether it be for console or desktop gaming and at a great price.
The tubular steel frame makes the chair sturdy and able to stand up to your avid gaming use. The steel star base is on casters, which allows you to move the chair around with ease. This chair is rated for up to 300 pounds and said to keep you comfortable during your gaming time.
This chair has a high back seat with adjustable lumbar support and a headrest to help you stay comfortable while playing games for hours.  You can rock in the chair, or recline it to 90 or 180 degrees and it has a pull-out footrest.  It is also height adjustable so you can set it at the right height for your desk.
Being that it's rated for 300 pounds, you don't have to be a kid or small adult to be comfortable in this chair. Most people have said that it's comfortable for someone that is not average size, which is great since gamers aren't all kids or small. There were a few that said if you're close to 300 pounds, it may be a little snug in your seat area, but not overly uncomfortable.
All in all, this big chair is great if you're not the average sized adult, it's comfortable to sit in for hours, rocks and reclines and has a great price point.
---
back to menu ↑
X Rocker 5127401 Pedestal  Wireless Video Gaming Chair – Black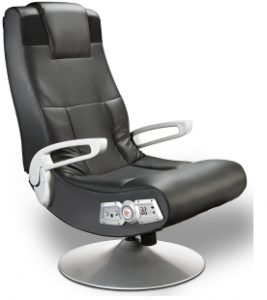 This X Rocker is made for gamers who like to play console games comfortably, it is a video gaming chair, so you can't put it on a desktop and play desktop games.
This  adult video gaming chair has an ergonomic design geared at making your comfortable while sitting in it for hours on end. It rocks back, so you can lean back a little in comfort and play your games, it also swivels.
The seat height is about 12 inches above the floor, so it's not like you'll be sitting on the floor and it's comfortable enough where you can have your legs stretched out or folded. The seat itself is very comfy and people who are over six feet have said they fit in this chair fine.
Being a video gaming chair, it is wireless and has two speakers near the headrest and a subwoofer, so you will not only hear the sound but feel it too. The control panel has input and output jacks, a headphone jack and separate volume and bass controls, so you can control the sound how you want it.
It is compatible with XboxOne, PlayStation, Wii, MP3 players and many DVD players, so it's not only a video gaming chair, you can use it to sit and listen to music or even watch movies.
If you're in the market for a video gaming chair that's not made for kids or teenagers, you should definitely check out this X Rocker.
---
back to menu ↑
E-Win High Back Computer Gaming Office Chair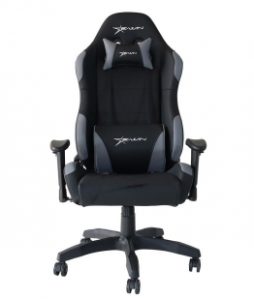 This chair is not just good for an office desk, but it's great for you to a home computer where you may do some serious gaming.
This gaming chair has a high back so you have support for those long gaming sessions. It also has lumbar support and a headrest support so you can surely be comfortable when playing games for hours. The pillows are adjustable so you can find the right comfortable position for you.
It looks like it's a high back office chair with a racing seat design. You can set the angle of the chair from being upright or at 120 or 135-degree angle so you can relax and lie back while playing. The armrest is also adjustable, to help add to the comfort.
As with most office type chairs, you can adjust the height of the chair to your liking and fit your desk and it swivels.
The adult chair is very comfortable and you won't get achy while playing games for hours on end. The swivel definitely comes in handy if you have multiple monitors set up on your desk.
This chair has gotten many rave reviews from people of all sizes saying it's comfortable to sit in for long periods of time.
---
back to menu ↑
Top Gamer PC Gaming Chair (Blue/Black)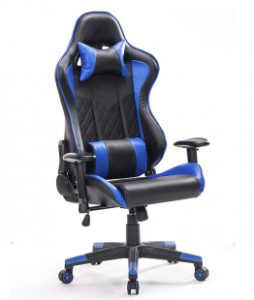 This gaming chair from Top Gamer is an ergonomically designed racing style chair made to give you the maximum amount of comfort.
It looks like an office chair with a racing seat design. The high back, along with the lumbar support and headrest pillows help keep you comfortable when you're spending hours in the chair gaming.
Not only can you adjust the lumbar and headrest pillows, but you can also adjust the height of the chair so that it can fit your desk perfectly and make your gaming experience as comfortable as possible. The back of the chair can also be adjusted at different angles to add to your experience as well as the armrests. It also has an adjustable footrest to add to your comfort.
The chair is very comfortable and sturdy. The chair is said to hold up to 300 pounds and even if you are close to that, you won't feel squished in the seat. Companies finally started realizing that all gamers are not kids and started making gaming chair that adults can use.
---
 Factors To Consider Before Choosing Your Gaming Chair For Adults
Any gamer knows that the seat you have for playing video games is an important aspect in the overall experience. When you are sitting in one place for possibly many hours at a time, having a good seat that provides the right support and comfort can be essential not only to how enjoyable your time is, but also your health and posture.
It isn't always easy finding the right adult gaming chair, because there are a lot of different things to consider in your search, including size, support, cost, and other features. Your own unique physical structure can play a role in what kind of chair you need with regards to size.
The kind of gamer you are may also have a lot to do with what kind of chair you want. As a PC gamer you will want seat pan adjustment, height adjustment, and solid armrests. If you're just a console game player you will primarily want to sit closer to the television screen and possibly somewhat lower to the ground.
1) Comfort
It would be very difficult to have a pleasant gaming experience without comfort, which is why this is the first and most important aspect to keep in mind when shopping for the right gaming chair. When you have the right chair that is comfortable, it will also be optimal for your health. The two main things to think about regarding comfort are armrests and back. In addition to these two things you may also consider footrests which can further aid in your comfort. It is best to shop for a chair in a store where you can test it out before you have to buy it, but if you are ordering online at least look at the product dimensions.
---
2) Accessories
Not all chairs will have other accessories, but some will–of course this may also have an impact on the price of the chair. There are gaming chairs which come with CD, DVD, and music players or even built-in sound systems. Lights are another possible accessory. Accessories are not everything but they may be important depending more or less on your preferences and how much they will affect your gaming experience.
---
3) Design
The exact design of a chair includes the dimensions, back support, and arm and footrests, so the design involves comfort and health as well. Of course, design will also include the color and overall appearance of the chair. Make sure it matches your own style preferences and will fit comfortably in your room. Weight and size will be other factors.
---
4) Weight Capacity
This is really only something to be concerned with if you happen to be heavier than most.  The weight capacity should be fairly easy to find. A good quality, solid adult gaming chair will be better equipped to support more weight than anything cheaply made. Aside from the weight capacity itself you may want to think about getting a chair which will have durable cushioning and which will still be fairly easy to move around in despite a potential larger size.
---
5) Materials Used
The overall quality of a chair will depend almost entirely on the materials that it is made out of. This will contribute to how long the chair endures, as well as the construction and comfort it provides. Good things to look for are breathable yet durable fabric, a firm wheelbase, mechanism, and gas lift. These are all important.
---
6) Ergonomic Value
When it comes to the ergonomic value of a chair the primary thing to be concerned with is the type of back which a chair has. Lumbar support and the type of cushioning will both play a maximum role in how comfortable a chair is. With the right type of back support and good quality cushioning a chair can risk back strain and increase better circulation. This makes it much easier to relax for long periods of time. If you need a computer chair check whether or not the chair has a high back.
---
7) Cost
After you have already looked at all of the features of a chair check the price tag. Establish your budget beforehand so that you don't get swayed by a bunch of fancy accessories that you don't need. At the cheaper end of the spectrum you can still get a chair which is comfortable and includes just the basics.
To get some idea of what kind of chair you can get, and what price-range it will fall into, here is a little breakdown.
At the more expensive, high end of the spectrum, you will find gaming chairs costing over $500. These chairs will have a higher level of comfort and many also include state of the art features. These features include torsion spring-loaded bearing joints, self-adjusting recline, a headrest that an be adjusted, and the like. These chairs are also like to include built-in speakers and other more luxurious accessories.
Mid-range gaming chairs are going to cost around $200-$500. These chairs may still have a solid design and come with some features. Much of this will be related to the brand and model. Getting an off-brand chair may have the same features and qualities as something from a well-known brand, but always make sure you at least purchase only from reliable and trust worthy companies.
You can get a chair that costs less than $100 if you are on a real budget or if you want only the most basic chair. This is best for anyone who just doesn't want to sit on the floor, bed, or couch anymore.
---
Conclusion
We hope that these factors will help you to find the best gaming chair for adults. When you have the knowledge of what to look for it makes the whole process of shopping much easier, which as we all know can be very stressful especially if you're looking for something somewhat expensive.
---